Journal Entry:
Wed Jun 8, 2011, 7:13 PM
♥╣[-Hi everyone! I'm still alive!!!-]╠♥
(─‿‿─)·º
Try to find my art here:
Share me your insights about
japookins
's new game.
Isn't it interesting?
Goodluck!!!
WIPs
Click the picture(s) for higher resolution
-Guess who she is!??

I'm about 40% finished with her right now, still having a hard time though. It's my second attempt to digital realism (my first one also isn't finish yet, OTL)
Tools used: Ps Cs4, Tablet, Reference
This is my wip for

's commission almost done!!! Whooo!!!
I've tried 3D sculpting with zbrush, had a hard time at first. I tried to understand some tutorials, but I just messed up and thought I consumed a lot of time with it which is not really my priority so I simply ended up playing with it.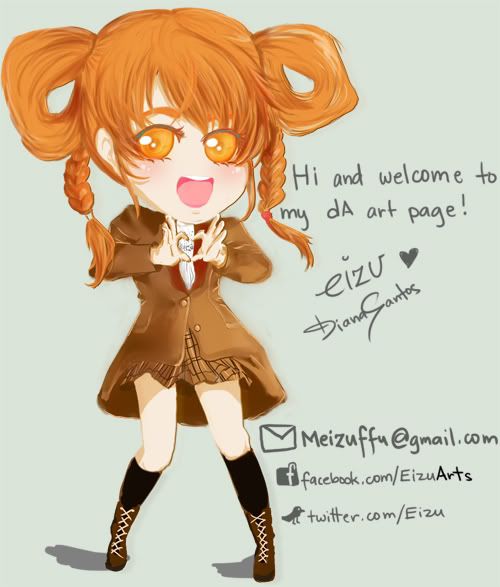 BTW! I tried a new style of CG-ing with this, lol with the big eyes.

I'm still improvising my style. You can see this artwork in my dA page bellow my deviantID.
Tools: Sai, Tablet
Check out my FB if you still haven't

Let's be good friends there!!!
Reflection
Lol, this paragraph just came out of my mind unexpectedly...
"I have to make a reflection", I said to myself.

I can't believe my interest is all over the computer >.> but I will be concentrating more on traditional medias this coming week because, after all my course is BFA major in Painting (I'm going to be a painter after 3 years!!! Woot!)
(✿◠‿◠)
Thanks for reading!!! Feel free to share me your thoughts! I'm active here in dA again
(after a long time)
Reading: dA world
Playing: Suikoden
Drinking: Water