Journal Entry:
Thu Jan 19, 2012, 3:49 AM
I have not made any cute CG lately, my time is always occupied with traditional artworks (I'm beginning to fall in love with poster colors, but I still favor using watercolor), photography works, and... fashion designing!!!
About fashion, I love everything about it! I'm still lacking, but with a few experience I think I'll be ok.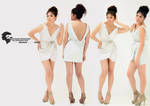 Please have a time visiting it in my new blog entry:
meizuffu.blogspot.com
It's about a creation of my own dress! I didn't imagine that I'll be able to produce one.

But I did! And I feel so happy.
Anyways, I reminisce the past when I realize that my banner on my blog was made last 2009. It's been too long since I draw something so detailed. I hope I can draw so many CG's in semester break.
Happy drawing!!! Ciao!
Listening to: Banji by Tiffany (SNSD)
Reading: Coding stuff!!! Argh, it's hard :S
Playing: CSS journal
Eating: just finished eating dinner!!!
Drinking: Water