---
Name:
Bedivere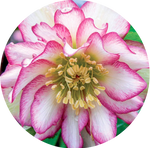 Blessing Names:
Rose Quartz Helleborus
Blessing Count:
1
Rarity:
Common
Eyes:
Normal Round
Current Residence:
Eldurr
Height:
5'10" | 178cm
Age:
Appears to be in his twenties
About the Blessing:
The Helleborus flower goes by many names and is often known as the Christmas Rose, Lenten Rose, and Winter rose. Despite these names names the hellebore is not closely related to the rose family. Many varieties of this flower are evergreen and Frost resistant. They tend to bloom in early spring and sometimes during the winter. They are a very hardy flower and thrive in colder climates. Unlike most flowers the petals can last for months as they do not fall like normal petals. All Helleborus plants are toxic, but poisoning is not common and it is mostly the production of toxins that make it unfavorable to deer and other wildlife. White Hellebore are more toxic, but has been cited to be used as a purgative by Hippocrates. In Legend the Helleborus flower was used to cure madness.
History:
TBA
---
---
Annies are a closed species by

Bedivere Design by Me
Image details
Image size
2231x2471px 1.81 MB