Female Models | Male Models | Children | Groups | Backgrounds | Packages | Animals | Objects
This is a stock-account maintained by

. If not stated otherwise all photos in this account are meant for artists to be used. This means you don't have to ask our permission to use our images – that's what they are here for. However, if you wish to use our stocks, please follow the rules indicated below:


STOCK RULES & TERMS OF USE


Illustrating A Stock Rule

Hello, artists! I hope you've all been doing well!

Recently we have got some questions concerning following stock rule:

Artists, attention! Don't just change colors or add a texture. From this day on we won't be accepting this kind of artwork anymore, and we may ask you to remove your work. All images submitted should be altered in such way that it is clear you have used techniques other than a filter or alteration in the colour of the original.
To better illustrate what we mean by this, I've made few images that might help you get the better idea. Obviously these do not cover every artistic aspect – they are simply general guidelines.
Also I'd like to make clear that we do not intend to point fingers at anyone
. It's everyone's own business what kind of artwork they make – we just prefer that our stock wouldn't be used for retouching, or adding a color/texture overlay or some Photoshop effect which generally takes 3 seconds.
Odds are, many people whom this concerns don't bother reading this but those of you who do – hugs and cookies for you!


1. About color changes: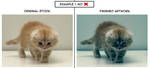 2. About using stock image as a background for a drawing: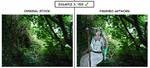 3. About texture usage: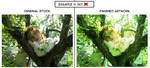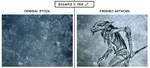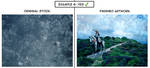 I hope this answers some of your questions. I know that in digital media things are rarely as easy as this, and the lines between photomanipulation and retouching can get vague and blurry, so if you have any concerns, don't hesitate to ask! We, don't bite - seriously.

Have fun time creating art!
Best wishes,
Iribel
from
Eirian-stock


OUR STOCK BY CATEGORY & THEME:
Models:

Fantasy

Dark

Emotional

Seasonal

Fighters, Soldiers, Warriors

Modern And Casual

Children

Groups

Iribel

Jillianiina

Nazahnel

Jaraid
Backgrounds:

Backgrounds
Other:

Animals

Plants And Flowers

Objects

Cut Out Stock
Packages:

Packages
Exclusive Stock:

Exclusive Stock

We have an honour to have

and

as our stock-sisters. Check out their wonderful galleries - you won't be disappointed!

Check out also

's weekly challenge!
Proud member of


Rest of the clubs can be found in the "Groups" widget.