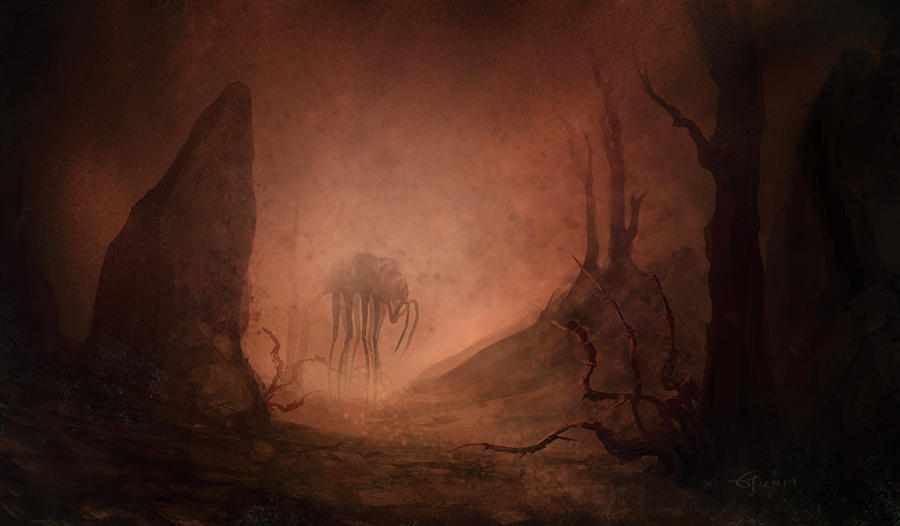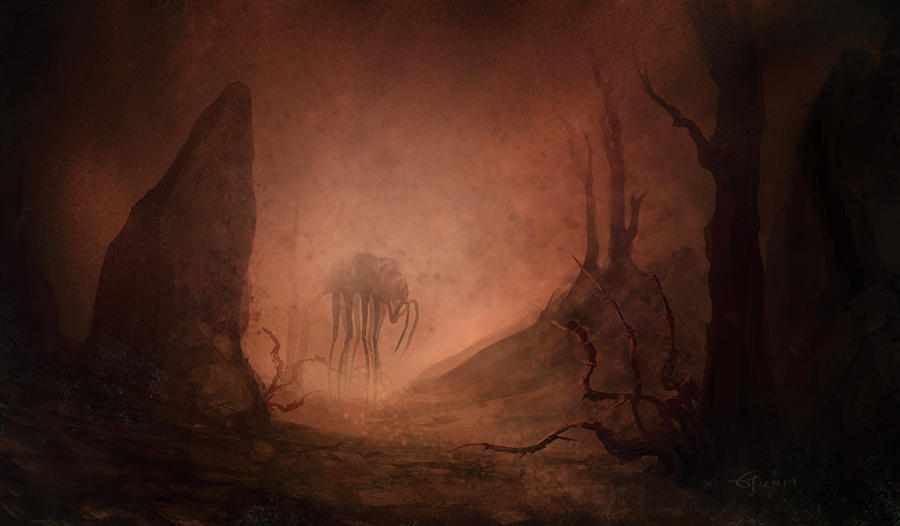 Watch

This is amazing. Brings back a great deal

Reply

This is very spooky! Cool stuff!
Reply

The music starts playing in your head as soon as you look at it.

(And that weird noise the Silt Striders make.)
Still my favorite Elder Scrolls game.

Reply

This is spooky and atmospheric Eleni, well done. Haven't played the game myself.
Reply

Thank you! It's a wonderful game. A lot of inspiration for my art has come from a select few games I've played since my teens, and Morrowind is definitely among the top 5.
Reply

Morrowind! Oh my goodness I would spend hours on that game and wonder where the time went. I would look out the window and go, why is it dark out? I just sat down to play! Love the red sand you've got going. Very nice.
Reply

I know, right?

Once I had spent an entire session just reading everything from the library of Vivec. Then again, I was younger and with more time on my hands. Still, every region had such a unique flair. Loved it.
Reply

It still amazes me the amount of lore and detail Bethesda puts into the Elder Scrolls games. I actually did the beta test for Elder Scrolls Online, but ultimately I didn't think it was worth the cost of 15 dollars a month and then having to pay for the game as well. It is a very well put together game, but I've been spoiled with free to play MMOs like Rift.

Have you ever played some of the later games like Oblivion and Skyrim? Oblivion was good, but you could definitely skip it. Skyrim on the other hand is a masterpiece.
Reply

I played both Oblivion and Skyrim. Oblivion was fine. I really liked its spellcasting system - you could exploit it to stack effects that would result in devastating spells.

I was sad they took that feature away in Skyrim.
Skyrim had also great atmosphere... almost, though not quite, on par with Morrowind. But I hated its interface.

I play on PC, and seeing the interface tailored for consoles, making it a clunky, ugly, cumbersome thing for a PC user annoyed me to no end. But it was still great!
I'm curious about ESO, but I don't play MMORPGs. They're such a huge time sink!
Reply

I honestly hadn't thought about that, but I totally agree with you. I've played Skyrim on both and I'm always scrambling around in the menus when I play on PC.. I never have that issue when I play on console.

ESO is very fun, lots of exploration (which is typical with Elder Scrolls). I love that they have the choice of all the races there, and they span the whole world as far as continents. My frustration is a lack of endgame. Buying the game, then having to pay 15 dollars a month, and then finally there's a cash shop where there's more tempting items waiting for me to buy just irritates me. Why have all three of these models put together? I think they'll find their player base unsatisfied with what feels like money grabbing techniques. This is unfortunate because the game was obviously very well put together.

Beautiful graphics, tons of lore, easy to run on the computer, and a very nice interface. Just wish they weren't counting on the fact that the game would be /so good/ that we'd all just dump our money into it, because us gamers are a flightly lot. That being said, while I'm not going to be playing, I hope that it does well overall. They deserve to have a loyal base that enjoys it and respects the work that was done.

/end soapbox

lol Sorry...
Reply

It does look very good. I just hope that doesn't mean Bethesda will divert all their energies into maintaining it and never bring out another TES game!
Reply

Looks really cool! Very nice atmosphere, and the composition pulls me right in

maybe its cool to leave something in foreground, or another element from morrowind to tell a little bit more story, now its only the silt strider (hope i typed that right), but its really nice!
Reply

Thanks! You're quite right, there could be a Dunmer peering in the storm, eyes shielded. Maybe with a cliff racer looming over him, about to catch him unawares.

I'll keep it in mind for a future scene!
Reply