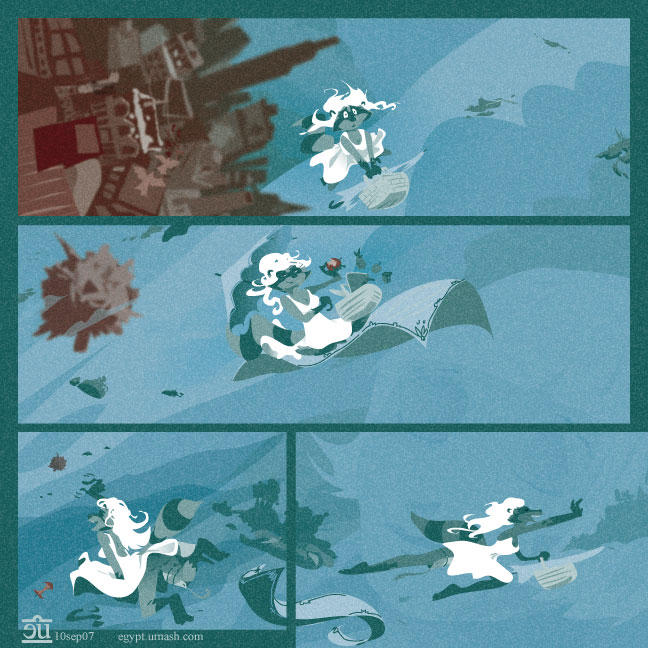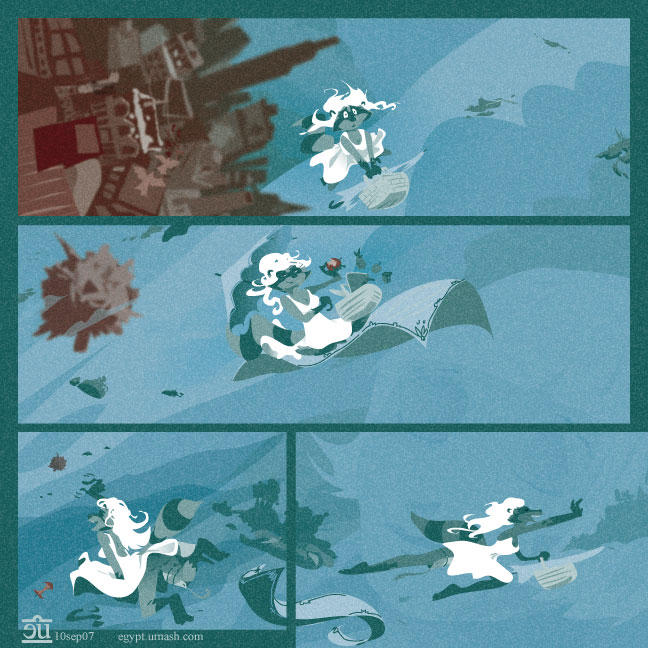 Watch
Another bit of teasing for that 'Five Glasses of Absinthe' comic I'm working on. This is page 18, with the dialogue layers turned off. You're missing a monologue that riffs off of the opening of Godard's
À bout de souffle
('Breathless'

.

I absolutely love her facial expressions
Reply

Thanks! They work better when there's the word balloons to emphasize and add nuance - but I'm being a tease and leaving them out here.
Reply

looks really great. how do you do that grain?
one multiplying layer with grain effect in illustrator or photoshop?
Reply

Pretty close. Draw a big rectangle, mezzotint it. Then set it to 'soft light' or 'hard light' and play with the amount - this comic is using soft light at 25% throughout. Hard light usually needs to be around 5-15% in my experience. Adding texture with multiply generally dims things too much in my experience; the 'light' modes keep a lot of the sparkle.

If your mezzotinted rectangle is anything but grey, soft/hard light will make it interact interestingly with the colors beneath it. This one's using the deep aqua color found throughout the piece.
Reply

i always tend to forget about the other options besides multiply

i'll need to check that out.
did you add any other effects/filters on that city-ball in the BG? seems to have a bit blur and gradient.
sorry if i bug you, but i need to learn something to improve.
Reply

Oh, no problem! I'm always happy to spend a few minutes blathering about my methods.
I used a bit of subtle color burn to pop the character against the skies in the first two panels, too. She didn't have enough contrast and it was easier to just push the sky away from her than to edit her.
Yeah, the caltropolis* is blurred. It's drawn on about five or six layers, each with an increasing amount of blur on them. Each layer also has an extra fill added in the appearance palette - the deep aqua, with increasing opacity percentages, which creates a sense of atmospheric perspective. All these layers are stuffed into another layer so I don't have to think about them when I'm working elsewhere, though that's more by habit than actual need, as that was the last thing I drew in this file.
Some people would probably do the atmospheric perspective by picking new colors, but I really love using global swatches. So I mix them by layering stuff in the appearance palette, or on the canvas. If I need to tweak the color mood of this page to fit in with the overall story it's just a matter of double-clicking the swatch, tweaking the sliders, and waiting a few seconds for the re-render (1200 paths with lots of transparency and a few layer effects takes a while for my little Powerbook to grind through).
When doing stuff with layer effects like this, it's usually best to apply the effects after most of it's drawn - otherwise it'll take forever, as it re-rasterizes every time you tweak a point. Tedious.
I also contemplated putting some complex patterns on the blanket with a distortion mesh (similar to what Disney did with the magic carpet in 'Aladdin'

but decided not to bother, as it'd just create extra noise.
*portmanteau of 'caltrop' and 'metropolis'
Reply

I think it's really great that you would take the time to explain your methods and your thinking process, it shows that there is still some truly good artists here on deviantART.
Reply

The idea of 'trade secrets' is bullshit; you can apply the exact same methods I use and you'll get something quite different because you're not me; you don't have my set of experiences and influences. If I refuse to discuss my methods, I gain a reputation as kinda sour; if I talk about them, I might end up seriously influencing someone and helping them make the world that much more interesting - and I might realize something about my methods in the course of putting them into words. It's a win-win situation, IMHO!
Reply

wow. thanks for your detailed description. there aren't many people who share there knowledge like that

hope i'll find the time to test the methods you mentioned

thanks again

Reply

I'm just trying to pass some favors forwards, yknow? Some of my former mentors gave me a lot of detailed theory and methodology.
Reply