If you've ever seen an artist put up a commission sheet then you'd see that they usually do rough sketches, lineart, flat color, full color and the like. I'm too lazy to make a commission sheet so just ask for something and we can negotiate a price in the comments section. I can also do things like this: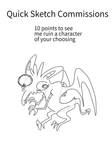 EDIT: QUICK SKETCH COMMISSIONS ARE NOW 20 POINTS
And if you have something else in mind like me drawing a character in a yoga pose or turning your character into food then feel free to ask and I'll see if I can do it. Note me your email so I can request payment when I am done with art.
IF I TAKE MORE THAN A WEEK TO DO YOUR COMMISSION YOU DO NOT HAVE TO PAY ME ANYTHING.
(If you only have points you could probably just send them through the commission widget.)
I'm only accepting
3
commissions right now to test the waters
s o m e b o d y p l e a s e b u y a c o m m i s s i o n