Winners and Art Prizes for Story-motes Contest!!
2 Favourites
6 Comments
1K Views
And the January/February Story-motes Winners Are...

2nd Runner-up -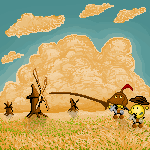 Nice job creating a very recognizable scene from a familiar story!
KitLightning
chose a 23x30cm Lustre Photo of
and gets a 10x15 Lustre Photo of
Runner-up -
Beautiful colors and wonderful rendition of a familiar scene for most of us!
happy-gurl
chose a 12x18in Rolled Art Print of
and gets a 9x12in Lustre Photo of :thumb353763536:
Winner -

I'm awestruck by Krissi's progression with the use of effects, especially water, and this deviation creates a terrific chapter to a story I'd love to know!
Krissi001
chose a 24x24in Rolled Art Print of
All past chosen art prizes can be seen in the
Favorites Folder!
The winning entries are now in the
Featured Folder!

All other entries can be seen
here
!
March Contest - Noisey-motes!
Details
HERE!
Story-motes is now an "Open" folder. This means new and old submissions will be auto-accepted. Be sure the deviation has something to do with "story" and contains at least one emote.