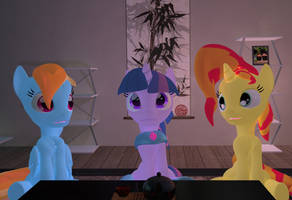 Subscription
Support my work by contributing to my tip jar every month for new hardwares
---

The Cupcake Chronicles Comic Chapter 2.1
Description
18+
After a bit of a hiatus between chapters, I finally give to you the start of Chapter 2 of this fine fic.

If anyone remembers
this story
from long ago, it is now being turned into a comic.
For those of you who don't know the story, this is an alternate ending to Cupcakes written by milesprower06 where a last minute rescue saves Rainbow Dash from certain death in the basement of Sugarcube Corner. Now, the broken and scarred Pegasus must come to terms with what Pinkie has done to her, try and find out why their friend committed these unspeakable atrocities, and find a way to move on.

with adjustments, edits, and original creations by

Image size
2560x1440px 5.69 MB