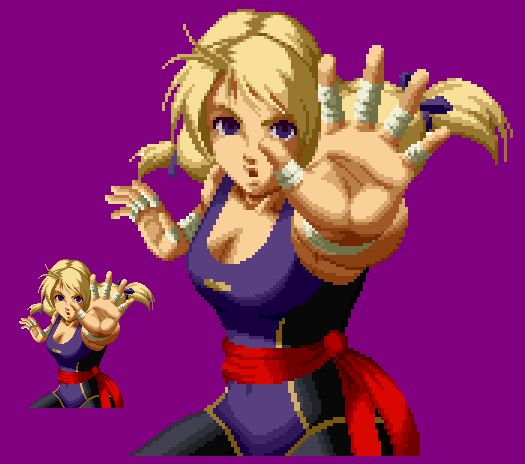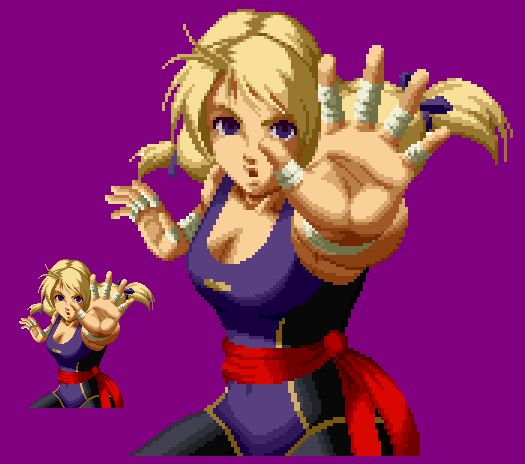 Watch
Essa nova vestimenta dela tá muito foda, parecendo até que ela é uma personagem da série Rival Schools.
Mas no fim das contas, devo agradecer ao Swipergod,a pessoa que criou essa roupinha.
Porque, quando ele anunciou que esse será o visual dela, ele, sem nenhuma intenção, me mostrou uma coisa:
Eu não preciso me restringir em um visual que me desagrada apenas porque tal pessoa ou empresa fez.
Eu posso muito bem fazer alterações visuais mais profundas numa ideia de outra pessoa (no meu caso, estou cozinhando lentamente um novo Armor Ralf, e isso inclui a aparência), que o personagem pode até ser mais agradável esteticamente.
Muito obrigado, Swipergod.
Sem você perceber, você está me ajudando a criar o futuro de The King of Fighters.


right? this outfit is awesome.
I am so glad he came up with it and I am even more glad that it is gaining fame from others creations.
the work you did on this portrait is great also my friend.
keep up the good work.
Reply

Thats right, man.
This sprite needs some deatils, of course, but the thing I liked the most it's her face and hair.
They are so gorgeous and well made,
that does not seem that the base of this image was taken directlly from the KOF 2000.
And much thanks for the compliment.
Doing something that is praised by the creator of this "something" is something surreal.
Have fun!

Reply