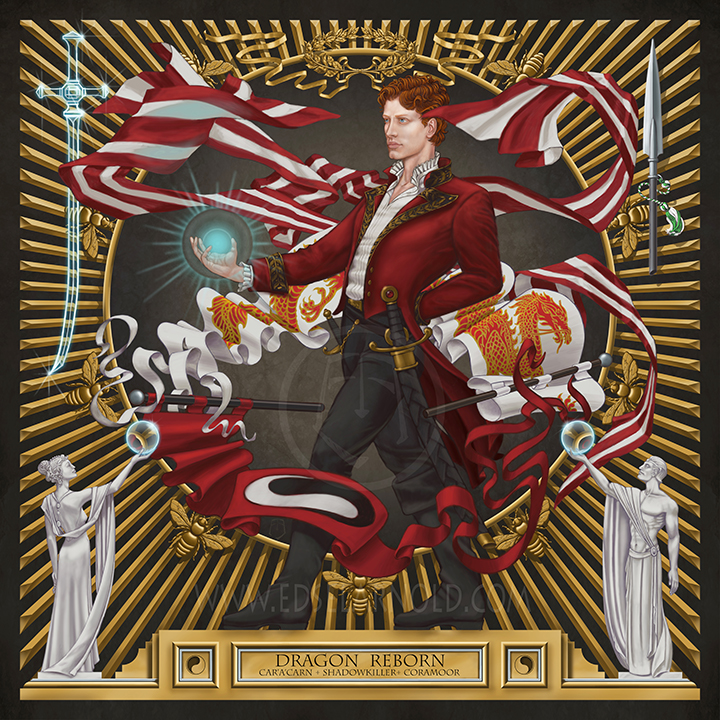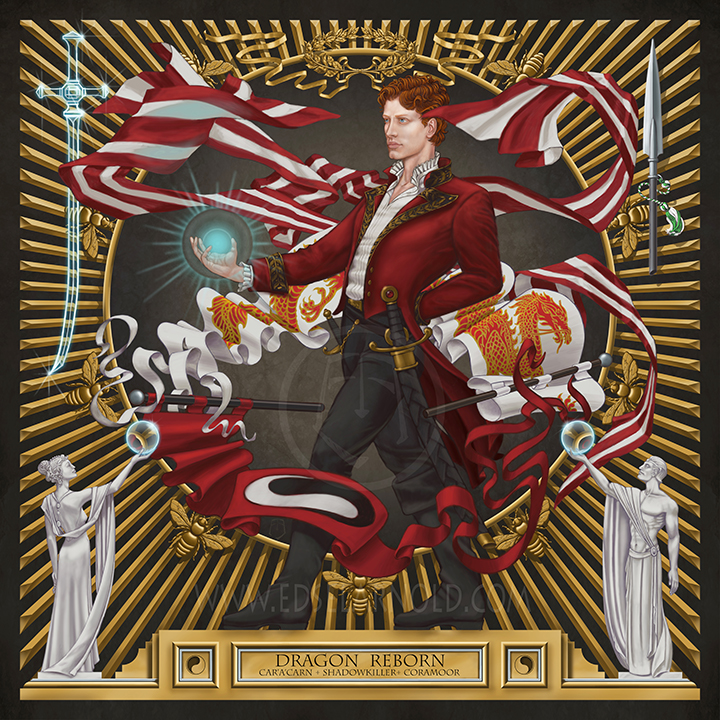 Watch
Rand Al'Thor as the Lord Dragon. Rand is depicted striding into Merrilor to parlay with the nations for the Dragon's Peace. He unfurls the tent fabric, Dragon Banner, & Aes Sedai banner as he reaches the field. In the border are Callandor, the Dragon's Scepter, & the Choedan Kal statue keys. The border itself represents the rising sun of Cairhein, the first country taken by the Dragon. The Nine Bees & Crown of Swords represent Illian, where Rand was crowned King.
Officially Licensed Wheel of Time ™ art. Prints for sale on my personal website at
Edsel Arnold
See close up details here:

Excellent work, so much style and artistry! Your Choedan Kal look amazing, by the way... Magnificent.
Reply

Jared,

First, thanks for your kind words. Second, your 3-D art is amazing. I immediately faved your own male Choedan Kal piece!! I'm an architect... the designer at a multi family firm, and I appreciate your modeling skills, and your artistic skills in bringing those models to life. I've got to take some time to delve further into your gallery. Liked your Callendor in the Stone piece as well!!!
Reply

Thanks for your compliments, I'm glad you liked my work as well! I've been in architecture for about fifteen years now, arch/viz and design mostly but also construction and permitting, but find myself consistently working on landscape art in my free time. Maya is difficult but very fulfilling! Glad you enjoyed some of my stuff.
Reply

The freedom of working on my own art... in Watercolor or on the Wacom board... is more intensely satisfying that trying to make a larger group happy (developer group, construction group, city admins, the owner of my firm...LOL). Thank God art is something I can still do when I retire. Architecture is helping me get my kids through high school and college, though.
Reply

It's been so long since I've seen you post Art and it's great to see incredible pieces from you again, as a whole and on closer inspection!

Hope this means we see more of you more often soon!

Thanks!
Reply

Thanks so much! I had a busy year with my regular job and my mother's illness and subsequent move to assisted living, so I wasn't able to paint as much. I'm skipping DragonCon this year to paint instead of promote, so hopefully I'm posting more art over the next months.
Reply