Photoshop CC and SketchUp: Painting, 3D, Illustration and Post-processing.
Just sharing the extended version of a work I did about 2 months ago for
www.nanogyn.com
, it's both an environment concept art and character art based on:
The concept here is a South East Asian cyberpunk urban 'back alley' district, portraying activities happens within the unseen underground world. It takes a special kind of organization that does these dirty job outside (or above) the jurisdiction of the law to combat cyberterrorism and politically complicated situation, something like Ghost in the Shell's Section 9, etc.
The Portrait version: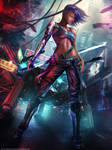 Mech-only Version: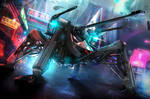 Image details
Image size
2560x1440px 1.5 MB