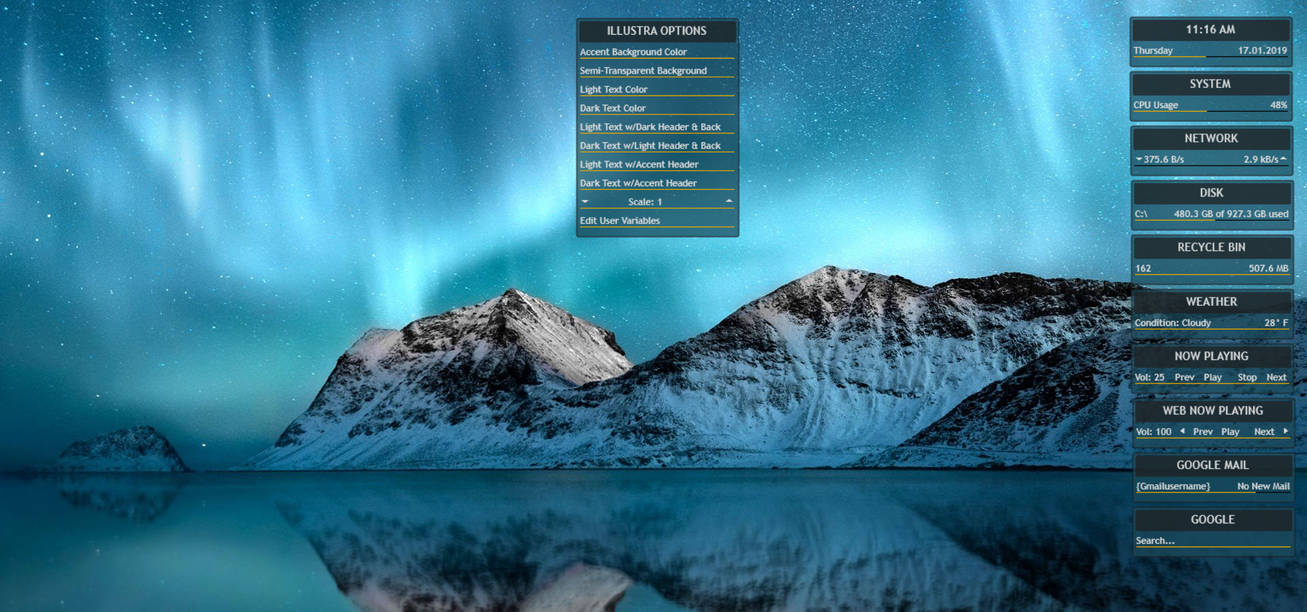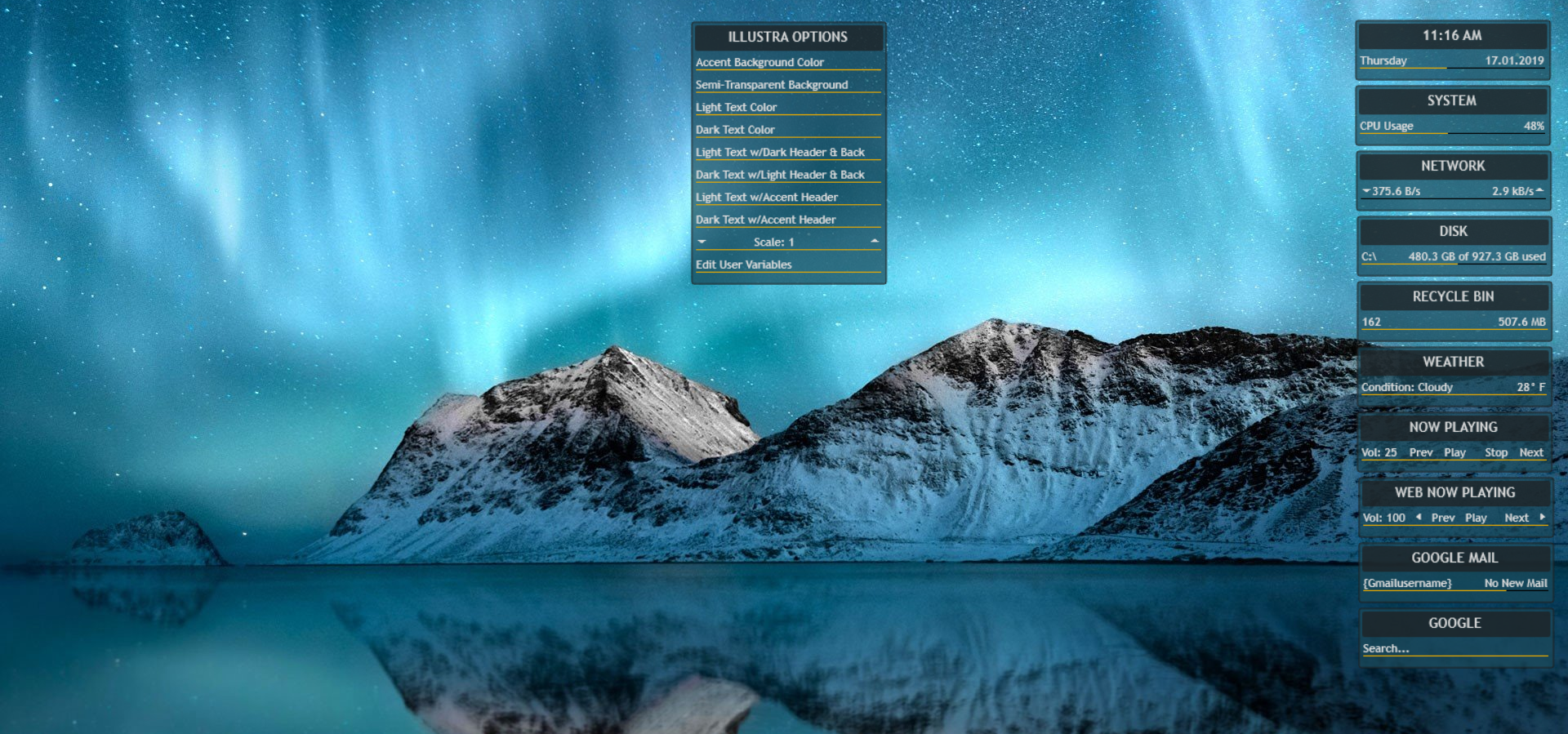 illustra is an updated version of the default Rainmeter skins

Welcome with Skin Launchers

Clock 12/24 hour with Win10 Calendar Link

System Info with Task Manager Link

Network Info with Win10 Wi-Fi Settings Link

Recycle Bin with View or Empty Action

Disk(s) with Win10 This PC Link

Program/Folder Launcher with Program Files Link

Google Mail for Multiple Accounts

Google Search | Bing Search | DuckDuckGo Search

Weather with Locator & Weather.com Link
... plus much more!
Options for Colors using Win10 Accent and more...
With Win10 Accent color, skins will change color automatically to match your desktop

And you can Scale the skins for any resolution!
Clean, Simple, Colorful, and Scale-Able ... Enjoy!
Three Layouts for any Resolution Included:
illustra
illustra Mini
illustra Full

HISTORY
V 1.2019.03.23
Modified Semi-Transparent Background color

V 1.2019.01.25
Modified Weather skin context menu options
Corrected distortions in Weather Locator

Updated illustra mini layout to include Welcome
V 1.2018.11.12
All skins (20+) in this one package
Added manual entry option for Scale in the Option skin
Middle-click any skin to open Options
V 1.2018.11.11
Lots of code unifying
Separated Weather Locators for Weather/3Day
Corrected Locators to control correct weather skin
Added a copy of Variables.inc in @ Resources folder
Updates/Addons will reset Scale to 1 ... Checking on options?
V 1.2018.11.10
Corrected Clipping of all String Meters for all Scales

V 1.2018.11.05
V ..11.01a & b

Added timeline when 5 items are selected in readers (b)

Added Readers for Rainmeter Forum | Google News | LifeHacker | ARS Technica
Unified code for all skins
V ..11.01
Simplified...


Beautiful wallpaper. Граверовка будто не внутрь а наружу.
Reply

I love wooden skins and I just found my new fave. Excellent work!
Reply

Reply

Any chance for a Now Playing skin? Thanks.
Reply

Very nice! I like it a lot. But leaves users with regular screens with 2px outline

Maybe combine two shapes (background and outline) so that the background covers half of the 2px outline on regular screens?

Reply

The space around skins is intentional; it is actually 4 pixels on every side... 8 between adjacent skins.
Send me a PM if you are seeing something undesirable on the display...

Reply

Almost everything I wanted in an ilustro update! Beautiful job!
Reply

Thanks!
This came about due to several people wanting to use illustro on high resolution displays and concerns about scale-ability of Rainmeter skins...

Glad you like it!
Reply

This is pretty neat!

Reply

It's a very nice work

.
Reply