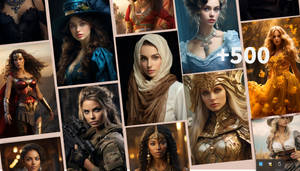 AI Female Photos Collection
This collection are over 1000 illustration to help you get inspired in filed of game/animation/illustration project. This artwork image was created using artificial intelligence and the Stable Diffusion production tool. I am delighted to share this beautiful female with you that I was able to create through this process. AI Art Cosplay and Beauties All images are made of AI . We will update regularly,welcome to subscribers!
---
Suggested Premium Downloads

Zaria Chainmaille Bridal Necklace
Description
Red Brass chainmaille bridal necklace with white Mother of Pearl tiles. Necklace is available @
Echo Moon Jewelry
.
Image size
458x458px 215.01 KB
Shutter Speed
1000/22627 second
Date Taken
May 10, 2008, 1:47:28 PM