Midnight/Ebony | Female | She/her


mainly traditional art. digital coming soon








Hey! I'm Midnight, a rookie on DA and in art. I'm not experienced in digital yet, but hopefully will start to learn around December/January! I love photography and traditional art, but I'm not a fan of sculpture. I'm also going to experiment with oils sometime over the next year.

ToyHouse: toyhou.se/EbonyWings67

Projects:

Summer Doesn't Last

Hoping to start a new book using my characters Connor and August. I'll be uploading some ideas over the course of the next two months.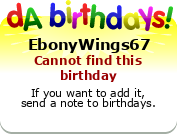 © to the rightful owners of the resources used here

www.deviantart.com/divisionari…

www.deviantart.com/king-lulu-d…