960 Favourites
14 Comments
7K Views
Tier 5 (illustration) commission for
capricornzodiac24
of their character Witch Way with Zecora! This is a sequel to this image here: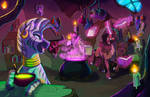 After a long day of experimenting with potion recipes, Zecora and Witch Way retire to Zecora's bedroom upstairs to wind down and relax. With books, some hot chocolate, and very pleasant company, it's the perfect end to a perfect day. <:
This. Took. FOREVER. To do. And I enjoyed every second of it; I don't often get to work with pieces like this: interior backgrounds are challenging for me but I really enjoy trying to figure them out, they're like puzzles! I think I can see some improvement in how I handle lighting/rendering too in comparison to the previous image. All around I'm VERY proud of the result here. <:
Thank you so much again for commissioning me Capri!! uwu
---------------
Process Vid Coming Soon!
IMAGE DETAILS
Image size
5700x3300px 5.36 MB