The first art trade I've done in literal years, this is

's character named Lennon "Tomahawk," a war robot made during WWII, once to help the Axis powers only to turn on them and fight for the Americans. Add a dash of Robin Williams and you got the perfect American hero! I've fallen in love with his design and personality and concept in general, he's so appealing to me!
Here's Faron's end of the trade!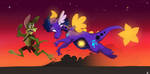 Go show her some love!

Image details
Image size
1000x1600px 766.49 KB