Botcon
2014 is coming up this June and I've decided to take a page form my buddy
glovestudios
and decided to open up a commission list BEFORE the convention starts so I can have them done by the time the convention starts. The main reason is because it'll (hopefully) give me time to enjoy the convention without being worrying about finishing a commission list AND people won't have to wait forever after the convention for their commissions (I'm still working on them, btw! If you're waiting for a convention sketch and will be at Botcon this year, let me know and I'll try and have that to you!).
So how's this going to work?
Well,
normally
at conventions I draw the image and then the person pays. This is so that no one loses any money if I can't get to their commission; I'd rather the person bring their money to another artist because I couldn't get to their commission versus that person be out $X because they're waiting on me and put in a down payment. That's just me. BUT that only works at the convention.
Like my buddy
Andrew stated in his commission list
(I'm going to paraphrase here), by doing a commission list like this ahead of time you run the risk of putting in work on a piece that may or may not be picked up. Unfortunately, that does mean that if you're signing up for a commission, you will have to put in the money ahead of time.
DISCLAIMER:

PLEASE understand that there will be a lot of fantastic artists at Botcon that you can commission from. I've linked Andrew's blog with prices/contact info above,
but here it is again
. I've always been an artist before a colorist, but I'm not as good as the interior artists on IDW books. Please consider that when you buy a commission from me, you're buying art from me, so it won't look like a Milne piece, a Griffith Piece, a Livio piece, etc. Please really consider taking a look at what I draw personally before getting a commission. I haven't taken pictures of commissions I've done before at cons, so the best I can do is point you to my gallery and to pay attention to the description under each for credit info; if no pencils/inks/lines credit is given, it's most likely all me.
ALSO, my prices are a little higher than they normally are at cons; this is because I really need to make sure I'm pricing my time correctly. Remember that with comics, I'm pretty much a colorist before artist. I, again, urge you to check out Griffith's commission list (or any other artist going to Botcon that is opening up commissions before the con); they are WAY more polished than I am. I still want to draw your commission and take your money, but I really want to make sure you've checked your other options out.
Commissions I will be offering:
(Colors will be done via marker)
Sketch cards 2.5" x 3.5"
- single character only,
$5 b&w
(might have a color added at my discretion)
, $10 full color
This will be either regular bust/head shot in a more regular style, or full-bodied Super Deformed style.
I will be opening up 10 slots for Sketch Cards.

6" x 9" Pizza Party Artwork
(single character only)
$5
Okay; Pizza Party is a SPECIFIC style; it's very loose, very doodley see this for an example: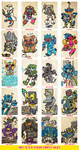 (note this was done digitally; pizza party commissions are done with sharpie and crayons)
I will be opening 10 slots.
9" x 12" artwork :

Headshot regular style
: $15 b&w
,
$20 color

Regular style or Full Body Super Deformed styl
e:
$20 b&w
,
$30 color
(Head shots/Regular styled full body are single character only; Super deformed are limited to two characters)
I will be opening 10 slots.
11" x 17" artwork:

Single character regular style full body
$30 b&w
,
$40 color
(additional characters ((up to three)) +
$10 each
if b&w; +
$15 each
if color)
5 character Super Deformed
$25 b&w
(might have a color added at my discretion)
,
$35 color
I will be opening 5 slots; if they fill up and I finish the 5 ahead of time, I will open another 5 slots up.
Slots for 11" x 17" are now full/closed for now.
Remember, this list is for Botcon 2014 commissions and pick up (at the con) ONLY.
e-mail
dyemooch@yahoo.com
- put
"BOTCON 2014 commission"
in your subject and, within the e-mail itself, include character information, type of commission and if you want it in color or not. I'll reply with a total and paypal info. I'll start on the commission after payment is received. I plan to have them all finished before the con, so you should be able to pick up your commission just whenever, but if there's a specific day you will be at the con, let me know, and I'll try and have it available for you on that day. I'll still offer a small amount of commissions at the con itself- but this will ensure that if you want a commission from me, you'll get it at the con.
Because I've been asked this a lot:

You do pay upfront, but I don't touch the money until the commission is DONE. I'll send photos along when they're finished so you know how the final product looks.
ALSO:


My mistake! the Pizza Party commissions are 6" x 9", not 4.5" x 6!!! Sorry about that!