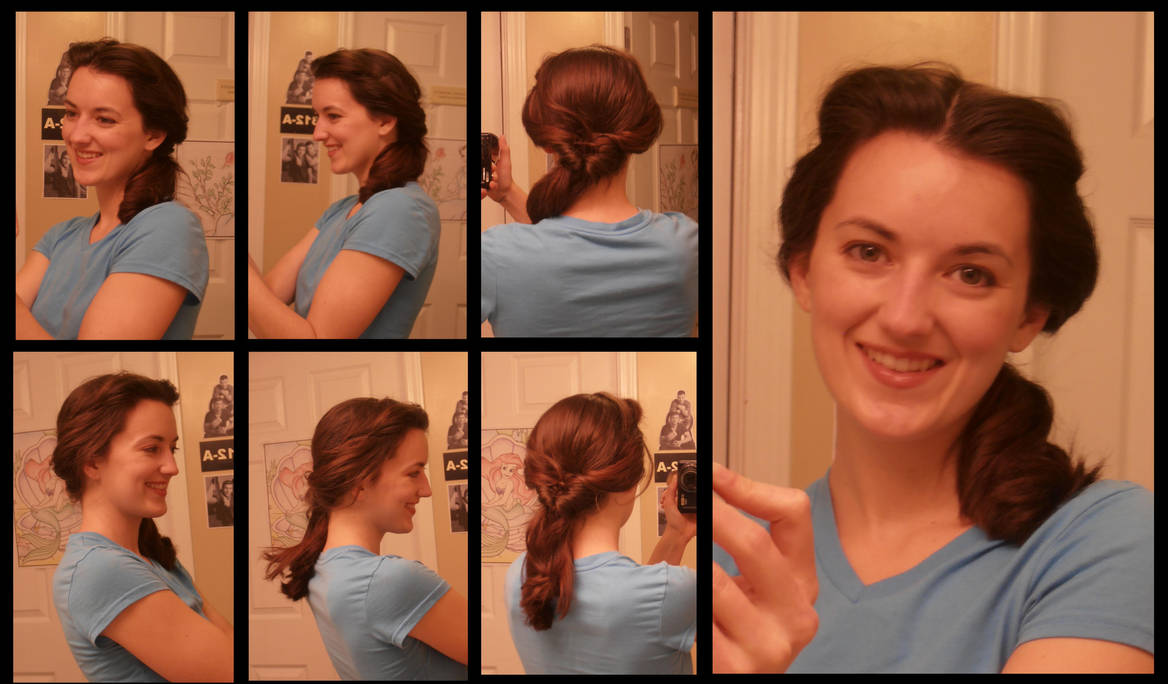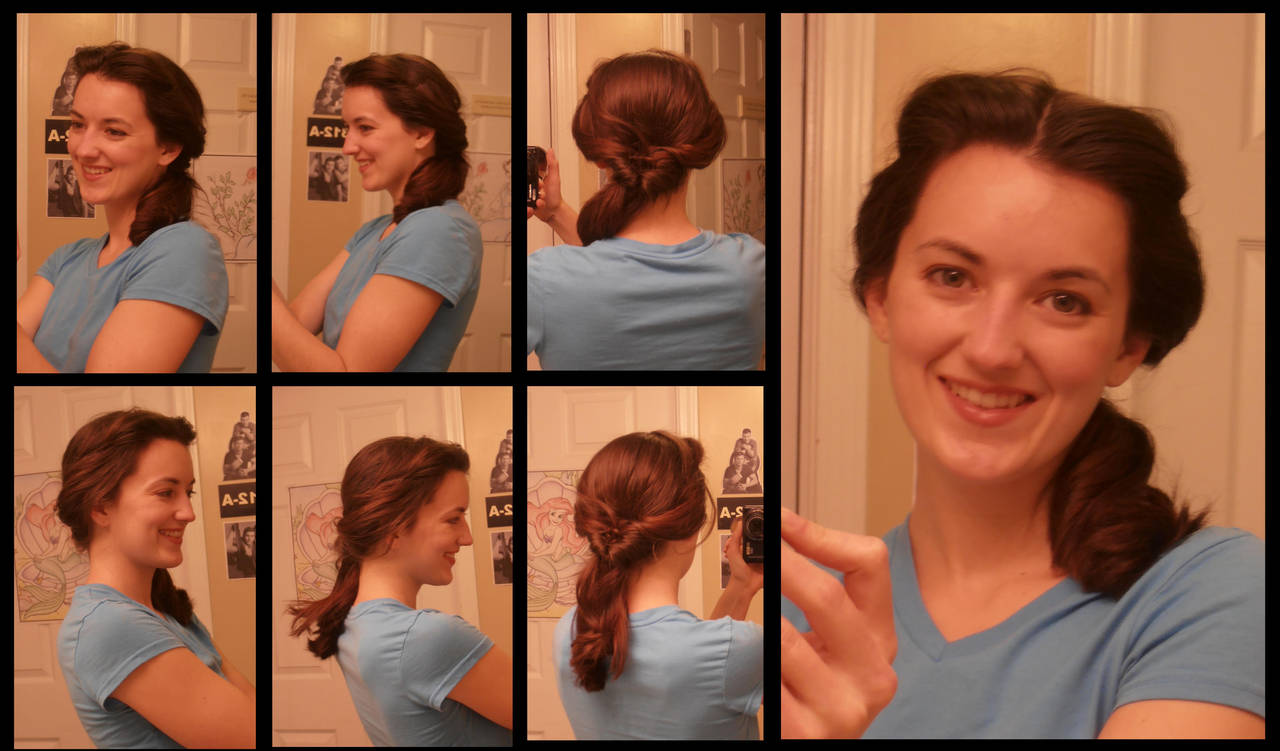 Watch
I've done this hair again and better, see
here.
Since I'd already done her difficult, ballgown style I decided to quickly do her day hair as well. It's quick and a bit messy, but hope it helps you get the idea if you're trying to do this hair style!
How To:

First separate out bangs and hair on side to just behind ear.

Part bangs down middle. Pin curl to make, pulling hair on right across to left and rolling towards middle and visa versa.

Dry bangs up and across opposite side (to achieve volume and spray.

Separate out a section of hair in addition to the bangs on each side.

Spray side hair and blow dry forward towards face.

Make a low loose ponytail with all hair except the side and bang sections.

Flip ponytail over it self and pull down through hair.

Take back half of side hair and rat for extra volume.

Drape side hair and bangs and pin back, pushing down through the flipped ponytail. Pin into place.

Pin between bangs and side hair for bump emphasis.

Curl all hair hanging down the back.
My
YouTube vid
for Belle's Ballroom hair might help you understand the bangs better. I'll make a specific vid later!
Character owned by Disney
See
Belle's Day Hair 2
for better pictures.
See
"How To: Belle's Hair"
to see how to do her ballgown scene hair!
On Tumblr
please do not repost, reblog from me!
See the updated (and BETTER) tutorial here!

Thank you! This is so helpful for my cosplay!
Reply

do you have to try Ariel's hair!

Reply

Definitely going to at some point!
Reply

Being a guy, I don't really care too much about anyone's hair but my own, but I'm seriously in awe with this. You remind me so much of Laura Marano in these pictures (yes, that's a good thing

). Keep up the great work!
Reply

Thank you sooooo much for this!!!!

I'm going to be cosplaying Belle's town dress this year and this is very helpful!!!!! Wonderful job with this

Reply

That's so great

I love the result, it really looks a lot like her hairstyle. If you added a blue ribbon it'd be completely perfect lol

Reply

! I knew I forgot something! Ah well, next time... this is pretty messy anyway. I'm going to do a separate vid and nice pictures for this style some other time.

Anyway, thank you so much!
Reply