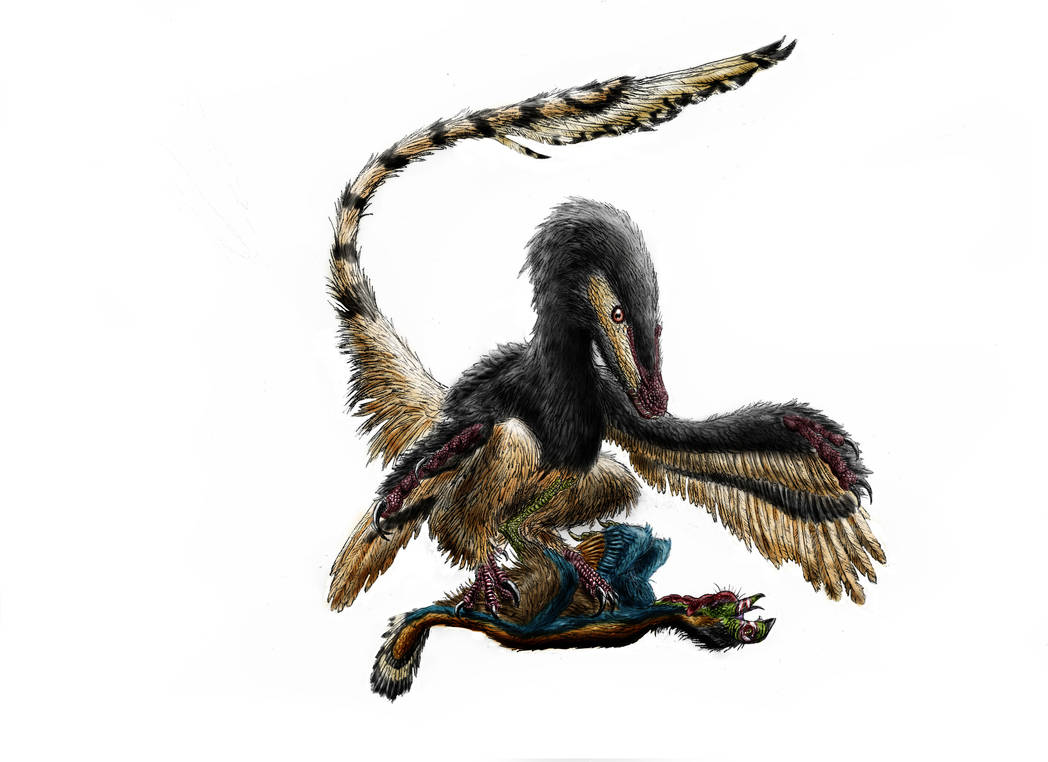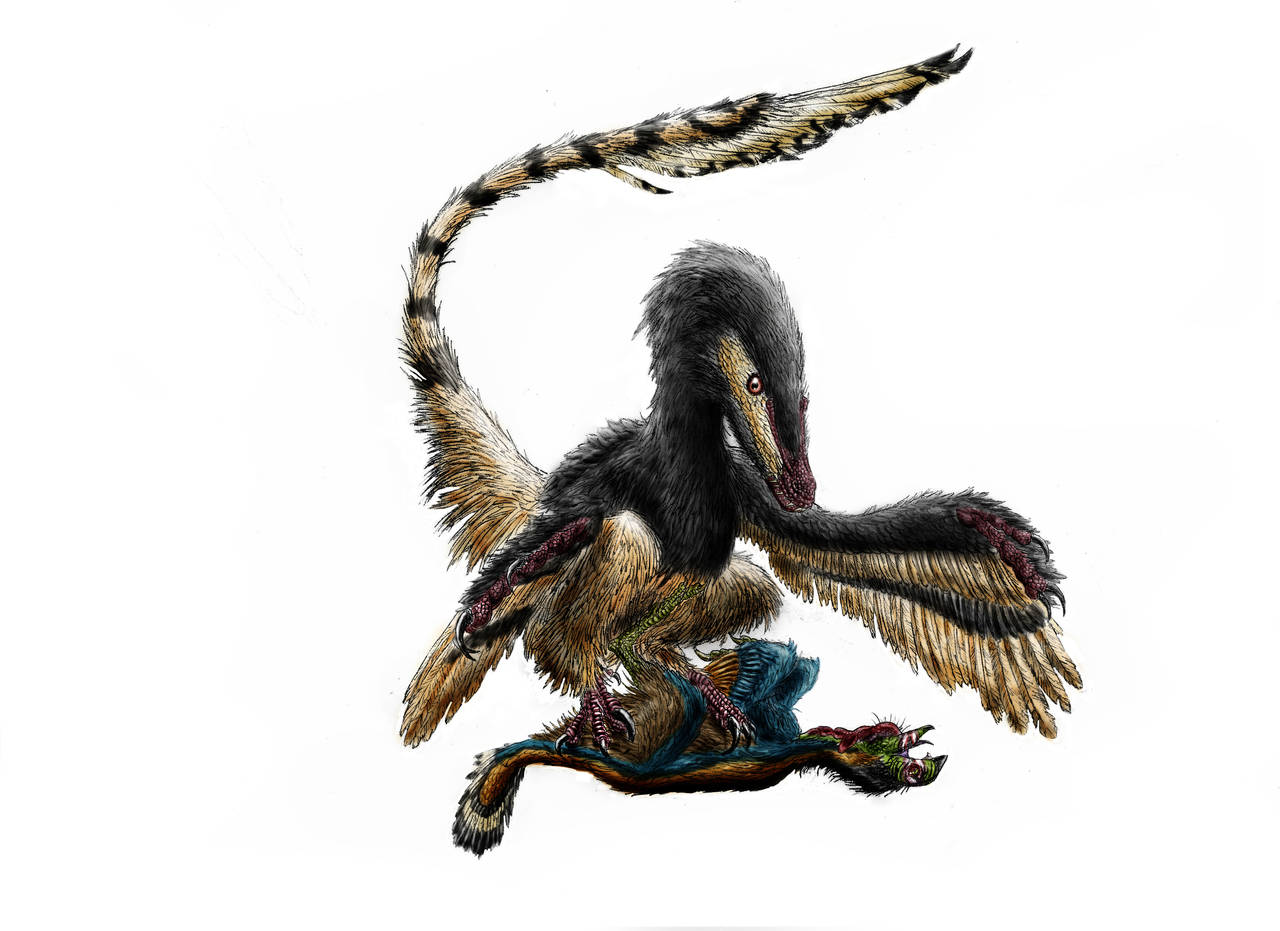 Velociraptor mongoliensis "mantling" over a young oviraptorosaur. Extant raptors use their wings in a similar way to hide their prey from nearby predators, so it seems plausible that their mesozoic cousins had the same habit.

Reply

actually no, velociraptors only had feathers on their arms
Reply

Why would Velociraptors only have feathers on their arms if their close relatives like Sinornithosaurus, Dakotaraptor and Microraptor were also found to be fully feathered? That makes no sense.
Reply

Turner and colleagues interpreted the presence of feathers on Velociraptor as evidence against the idea that the larger, flightless maniraptorans lost their feathers secondarily due to larger body size. Furthermore, they noted that quill knobs are almost never found in flightless bird species today, and that their presence in Velociraptor (presumed to have been flightless due to its relatively large size and short forelimbs) is evidence that the ancestors of dromaeosaurids could fly, making Velociraptor and other large members of this family secondarily flightless, though it is possible the large wing feathers inferred in the ancestors of Velociraptor had a purpose other than flight. The feathers of the flightless Velociraptor may have been used for display, for covering their nests while brooding, or for added speed and thrust when running up inclined slopes.
Reply

Yes they did serve other purposes, but saying it only had feathers on its arms makes no sense. A dromaeosaurid such as Velociraptor would likely have needed full coverings feathers for many reasons, one of which is likely heat regulation; small dromaeosaurs for example would lose needed body heat quickly if cold, and at the same time, their bodies would be vulnerable to direct heat and they could very well die if exposed in extreme environment. As such, feathers provide a way of keeping warm, cooling off, and shielding them from direct heat. Moreover cladistic analysis and phylogenetic bracketing indicates that all dromaeosaurids even up to the largest ones would have had full body coverings of feathers. Yes, Velociraptor probably did have flying ancestor, but it, like flightless birds, was not likely to lose such a feature as feathers even after millions of years of evolution.
Reply

''Moreover cladistic analysis and phylogenetic bracketing indicates that all dromaeosaurids even up to the largest ones would have had full body coverings of feathers.''
where did u learn this? also, it did
Reply

"It did." That's not really an argument. And what evidence do you have in regards to Velociraptor not having a full covering of feathers similar to its close avian relatives? Where's your evidence? Advanced maniraptorans such as Oviraptorosaurs, Troodontids, Therizinosaurids and even non-maniraptoran theropods and ornithischians such as Ornithomimids, Tyrannosauroids as big as Yutyrannus, and the small plant eaters Kulindadromeus and Tianyulong have feathers over all of or most of their body.
Among other places where I learned the evidence I presented, was in the paper describing the dromaeosaurid Zhenyuanlong suni (slightly smaller than Velociraptor), which was fully feathered as the fossil clearly shows:
www.ncbi.nlm.nih.gov/pmc/artic…
. This creature was completely flightless, and yet it still had feathers all over its body, including what appears to be a tail fan. Dakotaraptor too shows evidence of feathers in the form of quill knobs. Admitted, that is indirect evidence, but as modern flightless birds are feathered and do not possess quill knobs, it presents what is essentially clear and established; dromaeosaurids were fully feathered.
Reply

Reply

Reply

Top-notch as always mate.
Reply

Reply

Reply