Our new website is born!
Pass the cigars! Drinks are on the house! Three months of labor and push-push-breathe-push-breathe-push! And now Duirwaigh 5.0 is OUT, into the world, and ready to become its full, glorious, inspiring self.
www.Duirwaigh.com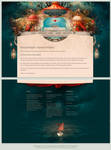 To celebrate our launch, we're hosting a giveaway every week until Christmas! Books, calendars, faeries, cards and other secret num nums are lined up and ready to visit your home or stuff the striped stocking of your favorite goblin over the holidays. Join us on Facebook
www.facebook.com/DuirwaighStud…
to participate!
(Not on FaceBook? No worries! There will be giveaways and other goodies exclusively for our website subscriber posse!)