Journal Entry:
Wed Mar 19, 2008, 7:20 AM
Nia Black. An infamous go-to girl for the criminal underworld possessed with matchless fighting and shooting skills, she performs jobs for small time crooks while making a mockery of law enforcement, evading every bullet, escaping every trap. She lives a carefree lifestyle, hitting the clubs with the payoffs she gets after every mission, with little concern for anyone but herself.

But when she incites the ire of a corrupt secret agency bent on taking advantage of her unique gifts, her personal life and her street life collide and a citywide conflict erupts, pitting the young and beautiful bandit against platoons of soldiers and hideous amalgams of man and science.

And when she is drawn into a conspiracy that dredges up a repressed sorrow and ignites a fierce rivalry, Nia will be forced to put her skills to the test and her life on the line, to find her purpose in a world where absolution comes from the muzzle flash of a gun and blood speaks louder than emotion.
The first Nia Black novel, WEAPON is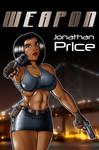 AVAILABLE NOW










I usually don't bother with the drama that happens on dA, revolving around what's really "art" or whether or not someone is truly an artist, or whatever. But I have something I want to get off my chest.
It involves this piece right here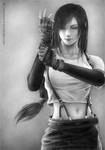 that I'm sure, if you surf dA enough, you've surely run across. At first, I, like the thousands of others who have commented and/or favorited this piece, loved it for what it appeared to be, a well-done pencil drawing of Tifa Lockheart from FFVII. Then someone brought to my attention the
reference
for the original piece , and claimed the pencil drawing was in fact Photoshopped from this original official image.
But I'm not about to debate whether or not the person did or did not Photoshop the work. After all there were WiPs posted showing the drawing in process, so, giving the benefit of the doubt, I have every reason to believe the person did in fact draw a rendition of the official Tifa pic on paper. Plus, I don't give much thought to whether or not anyone is lying...this is the Internet, after all. I just liked what I saw, which is why I faved it myself.
My question is this: even if the person who drew/Photoshopped or otherwise rendered this image is 100% genuine...does that make this impressive, in and of itself? I guess what I'm asking is, while trying to avoid being judgmental, is whether or not this drawing deserves props on its own merits, being so incredibly close to the original image?
One might say the pencil shading is so impressive that, even with the fact that the image practically mirrors the reference, it definitely stands on its own merits and the artist deserves props for what was created. Another might say if the original image did not exist, it would call into question whether the artist could actually have accomplished something of similar quality without reference. What do you think?
For the record, I am keeping the image in my favorites and I'm not attacking anyone. As I said, I like it for what it is, and I really don't care how it was created. But how does something like this make you feel as an artist?
JP










My CafePress Store
My ComicSpace
Listening to: The One Who Bares Fangs At God - Xenogears
Reading: How to Draw Comics the Marvel Way
Playing: Super Smash Bros. Brawl
Eating: Cashews
Drinking: Coffee