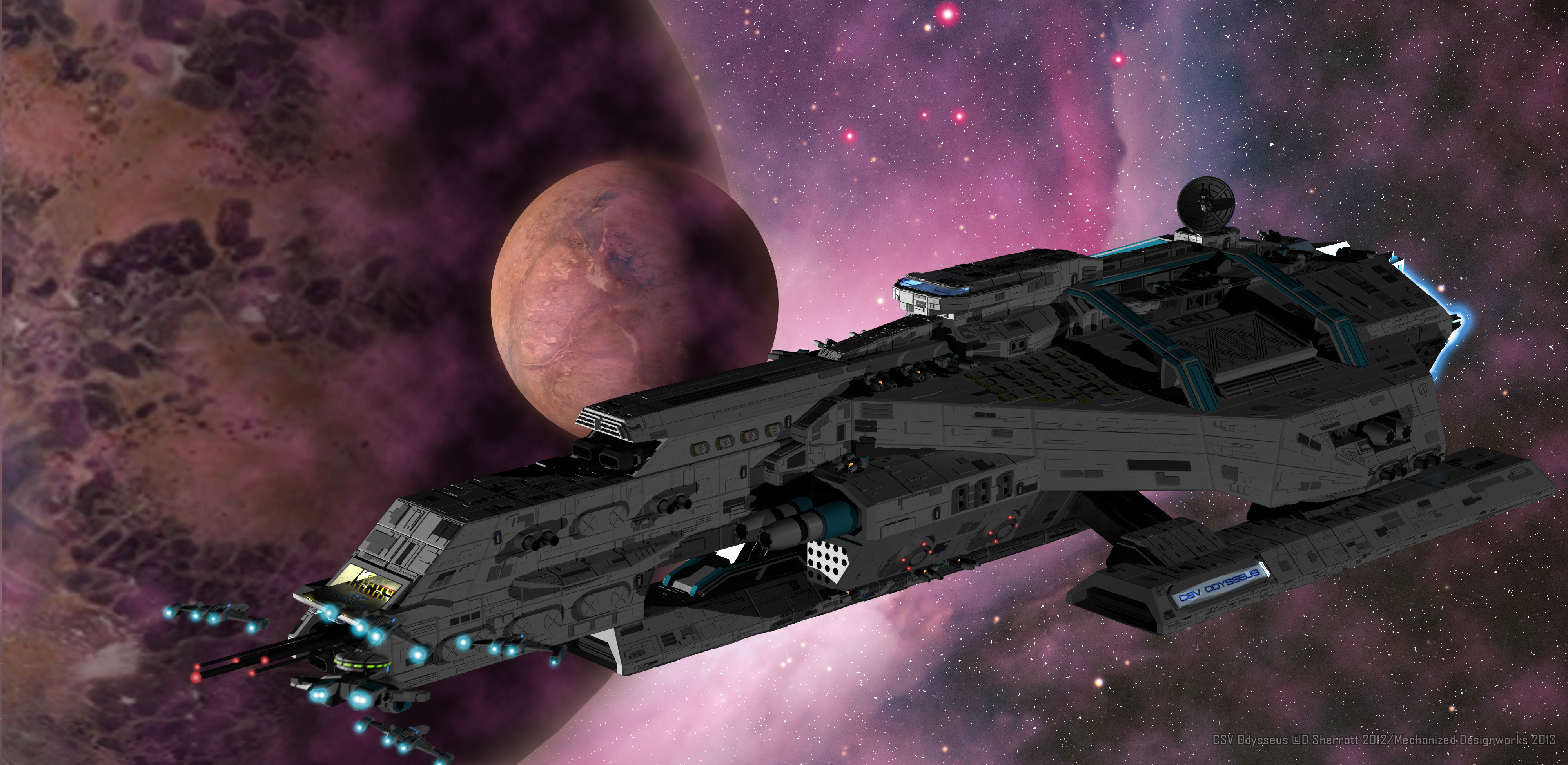 Watch
Silent and deadly he waits like the predator he was created to be. Born from technology long since forgotten but created with the tools of today. He is death, he is fear......
... and he is my son.
EDI

One more offering to the alter of mobile space-borne weapon platforms. I present the Odyssey class dreadnought.
The first of her type the CSV Odysseus is seen here in orbit around a dead world while a patrol of Talon CS-E and their charge, a Ulysses SWACs having completed a sector patrol, begin their return aproach to their home base.

TECHNICAL DATA
With a carlin of 1.9km and a displacement of 2,100,000 metric tons the CSV Odysseus is a monster of a warship. Armed with a devastating amount of firepower including (but not limited to) 66 AR-10 Launchers, 7 Heavy NGauss Cannons, 16 NAC 40s, 8 NEMP Cannons, and more than 60 NL55s. Screen Launchers, Bloodhound Probes, ECM suites and a multitude of non-capital class weapons give it enough firepower to rival a fleet of warships.

With more than 5500 tons of Lamellor Ferro-carbide armour (1000 tons on the forward arc alone) the Odysseus class can take incredible amounts of fire before succumbing to damage capable of crippling it. 

The CSV Odysseus also carries 96 Aerospace fighters made up of a combination of Talon CS-E Aerospace superiority fighters, Firestorm heavy fighters, Tigershark interceptors and a full squadron of Danica and Vorica "Dante class Omnifighters" along with other more common craft in its two exterior flight decks along with 60 SDS Drone fighters in the central flight deck. Additionally the forward flight deck is home to 24 support craft ranging from standard shuttlecraft to Ulysses SWACs recon patrol craft.

Four hull mount hardpoints give it the ability to transport cargo across the Inner Sphere while the four internal pressurized bays located towards the aft of the ship house a further four assault dropships with sufficient cargo space to support the repair and refit of two battalions of BattleMechs and Vehicles.

It is capable of extended operation for a period of 150 days before the food store for its small crew (less than 1200) are exhausted and, like EDI on the CSV Oberon, the CSV Odysseus is equipped with a Hypervisor system, called TAI, which performs many of the tasks that would usually be handled by the crew.
This is an impressive ship in more ways than just its design.
It shows an artist who has improved to damn impressive levels in CGI modelling; from strong colour designs to now very detailed concepts; this shows that your skills have moved on in leaps and bounds. The hull greebles, the plating, and the overall feel is that of enhanced skills that have made this ship more pleasing to the eye, and more terrifying in its inception. The devil in the detail is very apt here – and what detail! It's a joy to look over and see all the elements that make her what she is.
Other details are the scales of lights and the markings – this gives the machine volume to appreciate its overall mass and to me are the highlights (pardon the pun)!
Obviously there are influences from other ships from sci-fi; I can see traits of the Daedelus Class from Stargate SG-1, and the Battlestar Galactica from the same show. Not a detriment but an observation.
Smashing work sir

The Artist thought this was FAIR
18 out of 18 deviants thought this was fair.