125 Favourites
104 Comments
3K Views
Hey folks,

Remember the poll we had a couple of weeks ago about what would you like to see on my Patreon?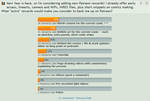 Well, this is actually happening: for a month I will be testing vlogs, bonus art and "Thistle & Thunder" -- my first ever NSFW side-story are
all
kicking off this week.
So...if you like to see exclusive content, read T&T and send me requests or just hear my terrible Slavic accent join my Patreon.


Will A Storm's Lullaby remain free to read on DA?
Of course.

Are you going to post any of this extra content on DeviantArt?
No. Only this page of T&T, although I may post some teasers in the future.

I don't want to read T&T will I miss something about your main story?
No, nothing important or plot-sensitive is happening in the T&T except Thistle & Tempest relationship going where
A Storm's Lullaby
can
only
hint upon


What do you mean by NSFW exactly?
Soft. Plus no anthro and boobs, no OC cameos and consensual sex only & stuff that doesn't make
me
cringe too much. Patreon suggestions and requests are
more
than welcome!
Do I have to be over 18 to read T&T?
Yes.
Will this affect how often do you post A Storm's Lullaby?
I don't know how my new schedule will look like. We'll see. If you
care
about regular and frequent updates -- please consider supporting me

How many pages do you plan to release?
Depends on the patreons' interest in it. If it's not enough the project gets axed, if it's sufficient -- I keep drawing

I channel my inner mangaka.

Will you be selling PDF version once it's finished?

Nope, sorry.

I'm a homophobe/lesbophobe/bigot and this makes me upset.

IMAGE DETAILS
Image size
2480x3508px 2.14 MB