I got tagged by



So many blinking chibies.
1. Show us the work you're most proud of, and tell us how long it took to draw it?
I don't know for sure. My lastest chapter is what i'm most proud of but it took months of work...
This piece marked the point where i think i've relearned enough about coloring to match my wife in some ways. Took about 6 hours.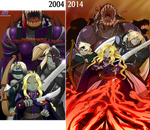 But this one is my most popular pieces on social medias: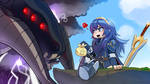 People got to love crazy ships. I think it took 4 hours.
2.
Same question, but show us the work you are the least satisfied with!
... I've been working for 13 years on a single project. 13! This question is so silly it deserve a butt playing dubsteps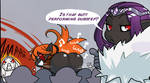 seriously, everything from 2001-2002.
3. Is there an artwork you would like to redraw?
Everything old. At the moment, Daydream first story. This is prompted by the fact someone is commissioning me to do it.
I can't post it on deviantart because it'd end up deleted, regardless of adult tag. Deviantart is funny that way. You can check it out on daydream though:
www.drowtales.com/~daydream/li…
4. Is there something you would like to draw, but you're afraid it won't look good?

Varied body types. Extreme sexy such as the arts of

and

. Or simply the dynamic shapes of the artist

. i'd like to draw background but i'm not afraid of it, i know it'll be bad. For I've years of expectation build up from my partner in life coloring them.
5. What are you most proud of in your works?
The abillity to script and draw ton of characters in many situation within a very restrictive amount of time, daily, monthly, yearly and not giving up to insanity? Beside that, it seem people like it when i do concept arts. It's the most popular commissions type. Which i guess can symbolize the above.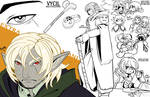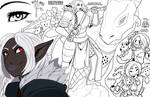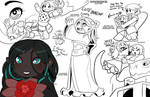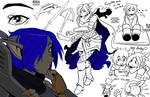 6. What would you like to change in your works?
More dynamism . Break out the canvas constrain i keep feeling. To be able to combine painting and cel shade too. My brain need rewiring for that.
Tagging: