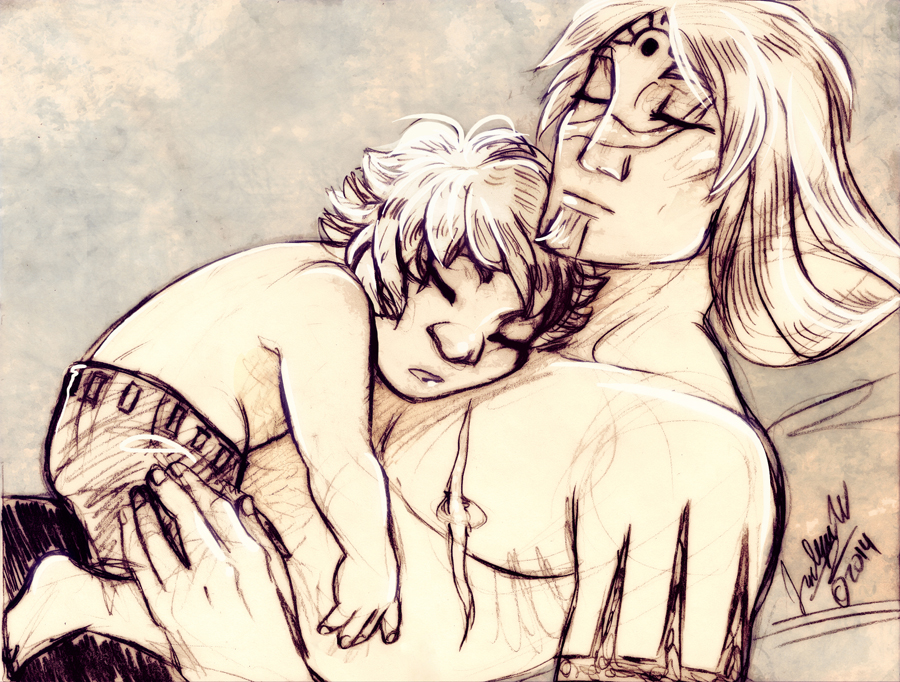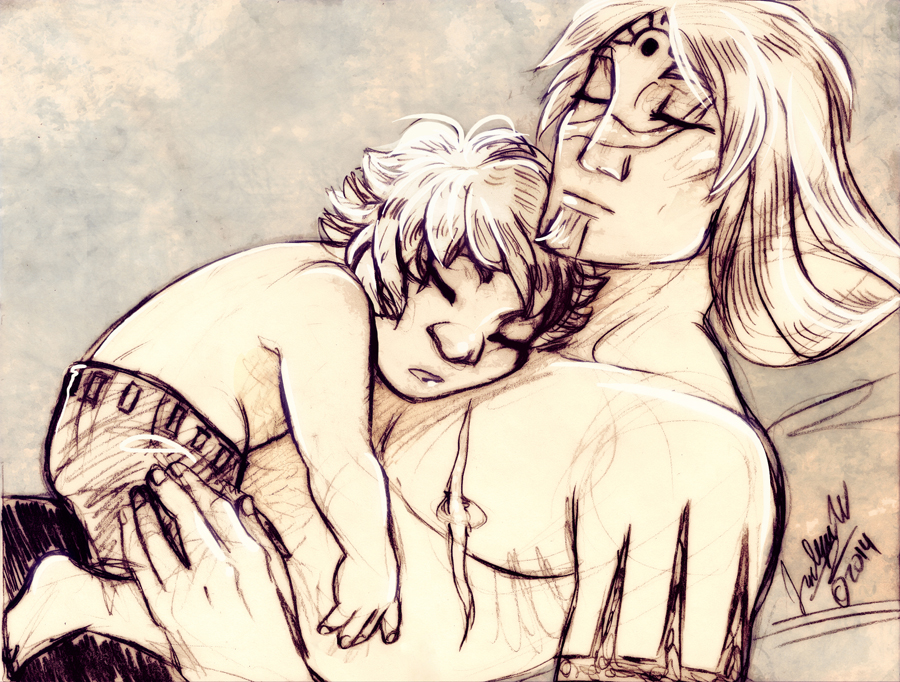 Watch

Aww! They are so cute

Reply

Can't even cope with how perfect this is. Just like CreatoreMagico said, you got Darryn's sleeping expression so PERFECT. I cannot cope with his stoic sleep face. But even better is little chubby Gil baby, all curled up under Darryn's chin. Just. UGH. I love it so much. Its so very much like how they were, Darryn would never let that little boy go, seriously.
I adore how you draw hands. The sheer contrast between Darryn's hand and Gil's little chubby fingers... agh. I love them.
I also really love how you draw Darryn's scar. I was thinking of changing it or something, but man. You've totally gone and cemented its perfection to me.
Reply

Aww, I'm so glad you're happy with this.

I love drawing hands--it's one of my favorite things, I'm glad you like how I draw them! It's been great drawing the contrasts between the dad and his kids as well. It's wonderful~!
Oh really? Well I'm glad you like how I draw it! I'm honored that I could solidify it for you.

Reply

You know what,
drazzi
says that even though I didn't specify what Darryn's sleeping expression should be like, you utterly nailed it. She was so happy to see him with a sort of serious older man sleeping face. (Because he's a huge derp the rest of the time.)
This is SO precious! I adore how clean and soft they look, and just how deeply asleep. Gil's little baby arm is so adorable and such cute littke pants! Omg XD; Considering how little ref I gave you of my Gil, you got him down as a baby. I love his nose <3
Thank you again for your amazing work, and for your attention to detail and just all the magic yo put into everything you do! Anyone reading this? Commission this artist, they are all kinds of amazing.
Reply

Hahah, well I'm glad I got him right! I kinda figured that a guy with a bunch of scars would be little more serious--at least some of the time.

Also yay! I'm glad I got Gil right as well. I didn't have much to go on as you mentioned, so I just trusted my gut. I'm glad it worked!! I'm glad you like what I did with his nose as well. I had to redraw it a couple times to get it to where I was pleased with it.
Aww, thanks so much! I'm just happy you're happy. These commissions have been very fun for me! I'm glad you're enjoying them as well.

Reply

Reply

gawd so cute

Reply