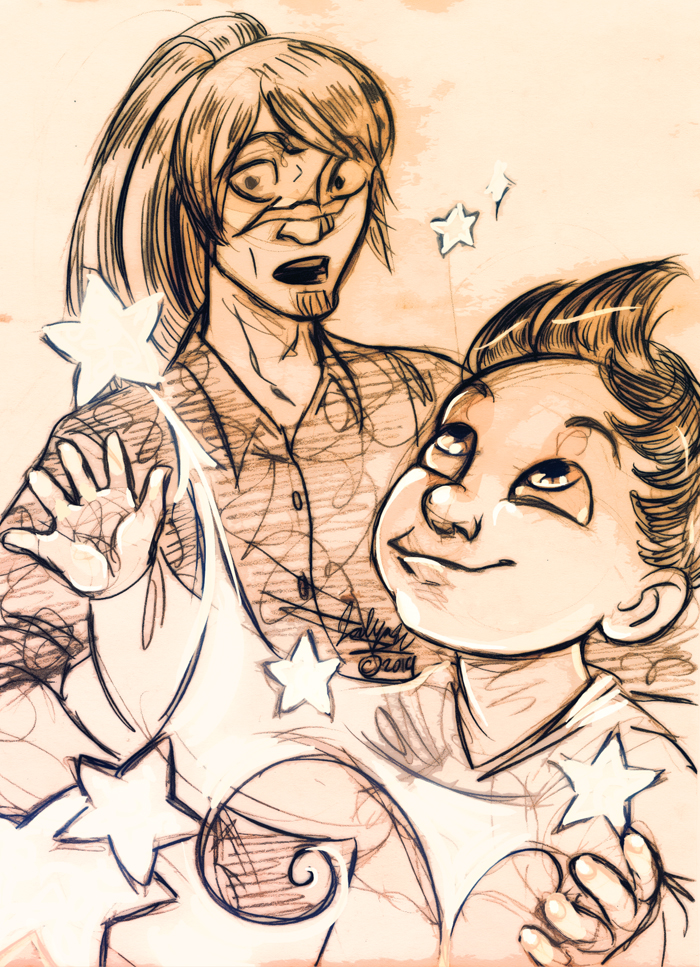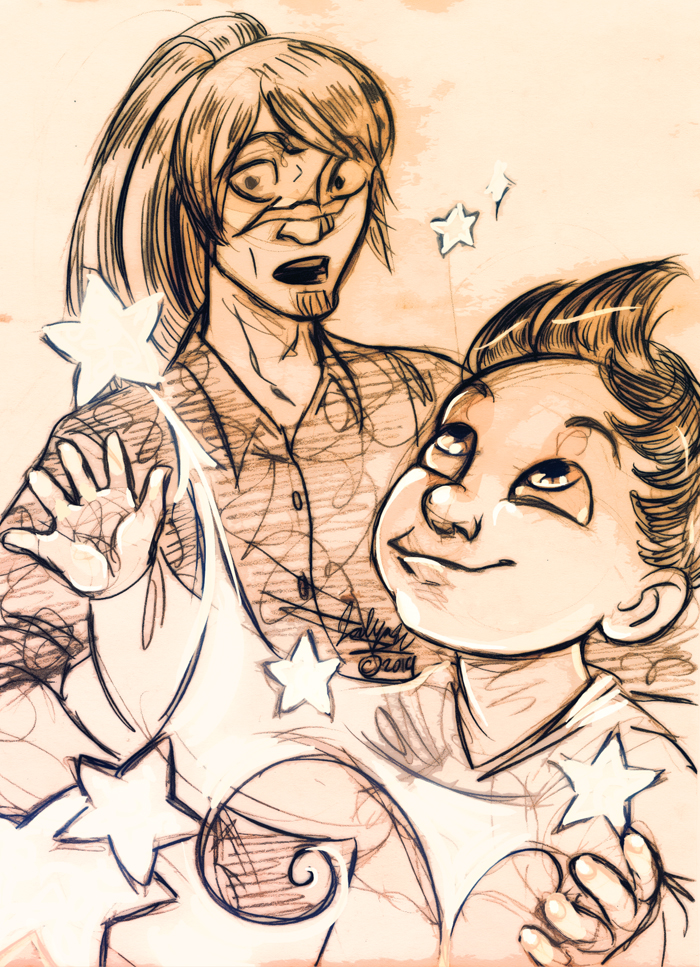 Watch
Another commission for

This time it's Darryn and another of his kids, Charon. Charon is crazy-powerful, and I guess this was a bit of a surprise for Darryn.

I don't think he has a problem with control though, so it's all good. And if he does have problems with control then he's got it handled for the purposes of my picture.

Tried a couple different things with this one. I rather like the effect~
Pencil and CG.
Darryn and Charon (c)

Artwork (c) Me!

Great job with the flow of the stars and their movement (yay spirally lines!) and his expression in he background is priceless, my goodness.
Reply

I reiterate what
drazzi
said <3 This is perfect. I feel like I asked for a lot with this pose, but you've done a splendid job capturing a really animated moment once again. Darryns face is just priceless XD; And Charon looks every bit the god-mod baby he is XD; So cheeky and his hair is wonderful!
You my friend, are amazing. Thank you a billion times! Hey, you're half way through these! I hope your watchers don't think I'm greedy as heck for commissioning you so many pictures.
Reply

Naw, it wasn't too bad.

It did take a couple of tries to come up with something that worked, but it all came together in he end.

As always I'm just happy you're both pleased with the final picture! Heehee, I had a lot of fun with Charon's whimsical hair. It's wonderful!
Hahah, I really couldn't say for sure about my watchers, but these have been getting a good amount of favorites; like 50-100 depending on which one it is.

So I'd say that they're pretty well liked!
Reply

THIS PERFECTLY SUMS UP EVERYTHING. PERFECTLY. Oh god.
Darryn's expression again so perfect. Oh lord, I love how you do expressions. That is pretty much just how Darryn felt when he saw Charon using powerful magics at a young age.
And oh man, you made Charon look adorable. I love his flicky hair, and the stars! He loves stars so much. And those EYES, the cheeky eyes <3 Ahhh I love this!
And I also love that I saw it before CreatoreMagico this time.
Reply


I'm just glad I continue to please the both of you! I've really been having a great time with your characters. So much fun every time!
I'm happy you like how I drew both Darryn and Charon in this one~ It was great to draw such fun expressions.

Yep, I was sure to make the magic he was playing with stars, as Creatore said that they should be. I figured they must be important. X3
Reply