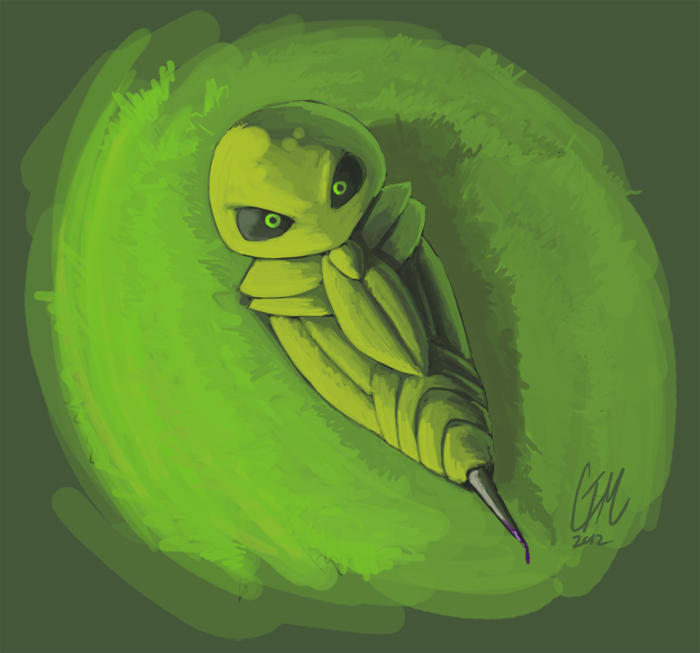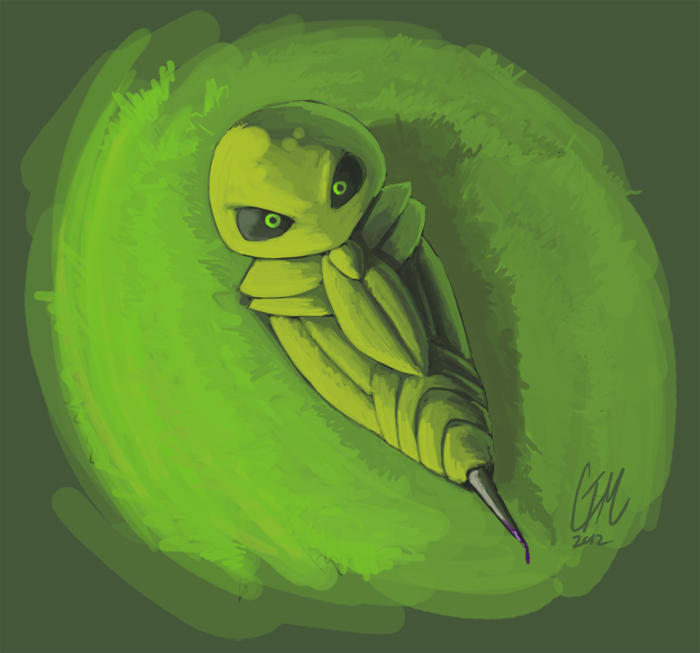 Watch
Kakuna and Metapod look so much more awesome than they actually are. This one seems to have been knocked from it's tree and now it's about to poison sting something. Except it can't move because it's a cocoon.

Will post a journal with the speedpaint in a bit!

Creepy... In a good way though!

Reply

NOOOOOOOO! WHY DIDNT YOU MAKE SOMETHING MORE
AWESOME! i was expecting better... Darn it! i guess kakunas cant
look better than this lol Still nice shading but no background ruins
it for me. still it give it 3461/4000 used pokeballs in a huge jar.
Reply

Yeah, was kind of lazy. He is supposed to be laying on the ground but I didn't extend the grass all the way across the canvas lol.
Reply

Oh well its still the best kakuna picture

Say wasnt kakunas color like a light brown? Or a dark gold?
Reply

The sprite that I looked at was a pretty bright yellow/gold, so that's what I used on the highlights with a little green mixed in to place him in his surroundings.
Reply

Oh i see, but it looks really green :/
Reply

Yeah, usually I like to incorporate colors from the background into the rest of the painting to help everything blend and come together. Here I just had the green of the grass surrounding him, so I implemented it heavily into the shading and ambiance. The only color on him that is from a reference is the yellow where he is being hit by light.
Reply

yeah so it doesnt show the real color. Still it looks good
(i confused it with Metapod actually lol)
Reply

Looks like its about to evolve actually.
Reply

Could be! Have you ever been so angry at something that you just turned into a giant bee and murdered it? Kakuna knows that feel bro.
Reply

Considering its got drills/stingers for arms, I imagine its designed to project as much hate as possible.
Reply

Ah shi-
That looks painful as anything, reminded me why I hate wasps... xD
Great pic, it really captures the violent nature of the Kakuna.

Reply

Thanks, also can't stand wasps here. Ever since I jumped barefoot off a trampoline and landed directly on one. -_-
I figured these things would be very hateful, considering they are basically just Beedrill trapped inside a shell. They want to go sting everything but can't move.

Reply

YEOCH! DX
I just hate the fact that they build their nest RIGHT OUTSIDE my window. Every. Year. I see some of them zooming around now.
Yea, they may be WORSE than Beedrill because of their frustration at their immobility.

Reply

That is awful. I like to keep my windows wide open when it's warm out, so I would be incredibly unhappy if I had your room lol. Can you get rid of them, or do you like live somewhere that you can't really get to the nest safely?
Reply

Yea, its terrible.
Every year, they build it in the exact same spot, and whenever we get rid of their nest, they build it in a different area of the house... xD
Its kinda high up, but my mom is fearless and is the one who takes care of it.

Reply

Wow!! That's amazing! The shading is so accurate, really well done

Reply