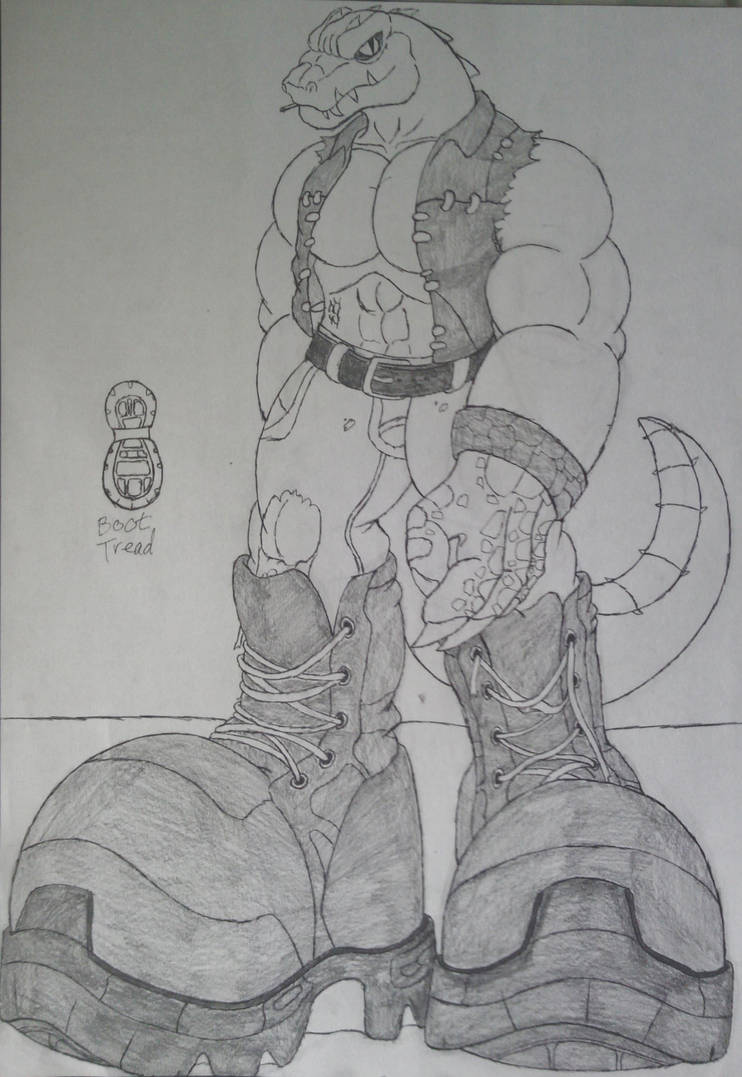 Watch
Here's a new OC I created

I wanted to make a few new OCs and this guy here is one of them. His name is Rektoro; an anthro crocodile based on Rnekton from League of Legends (his outback skin) and no, the world has not ended because this guy has some almost perfect boots X3 its a nice change.
Rektoro wasn't always an anthro crocodile. In fact he was a normal, feral crocodile living in the swamps of Australia. However, one day when he was swimming in the thick muck, he saw something glisten in the forest. Despite being feral, he wanted to investigate. He slowly made his way towards where this sparkle was coming from until he saw the source; a bracelet made from black crocodile skin. Despite what it was made from this croc wanted to examine it.
Just when his long snout gave the slightest touch to this bracelt, the croc hissed as loud as it can and rolled onto its back, with it's hissing becoming louder and louder. It is soon realized that this croc was growing in size, but it's arms and legs were growing quicker than the torso. Soon, the croc that was only 6 foot long, now stood at 7 feet tall. This croc was now a humanoid.
The croc didn't take much to realize what had happened. He was able to walk, interact and can even speak. However, he doesn't know how to speak so initially he was mute...and nude. He ventured into a nearby town in search of some clothes. Unfortunately he was caught and was put in a lab (not to be experimented on!) but to be analysed. They were interested to see how he became an anthro. Well, it all pointed to the magic bracelet.
Since the croc didn't harm anyone nor did he intend to, they decided to teach him how to live on his own. They taught him how to speak, told him how to hold just about anything and taught him how to cook. Once that was sorted out they had him pick out some clothes to wear, gave him a name and set him out into the open world once he's dressed up. He was now called Rektoro Aberdeen
Rektoro managed to bag a plane from Australia to the United States where he can get a nicer atmosphere. Or at least somplace where no one makes fun of him for being a croc. Luckily, he managed to get a job working at a pier as a ''pool boy''. His job is mostly cleaning up anything that neads cleaning. It may sound like a bad job but Rektoro loves cleaning stuff up. Even though he's literally terrified of baths (no one knows why) and stinks most of the time. But that doesn't get him in the way of his job. Even more lucky is that Rektoro is working on the same Pier as Steve, Alloy & Callum who are now Rektoro's ''mates''.
Rektoro also has a side-job, working as a tourist guide. He considers this a side job because there isn't much tourists who want to go sightseeing. But when the beach is REALLY busy, he will have to take up his tourist guide job than his pool boy job. He's pretty good as a guide. He always carries a map so they don't get lost and he always has information on landmarks so he knows what to say. Its a little hard to handle 2 jobs but hey, he gets double-paid.
Rektoro is rather mysterious to most people. He rarely talks about his past or even how he became what he is today. However, despite being a croc, he is willing to let people near him without having to snap his jaw. He will hiss when threatened but he won't harm anyone. He likes to play in the mud due to his crocodile instincts but uses a hose to clean himself down instead of a shower or a bath.
Rektoro doesn't have good table manners either but he makes it up by helping up with the mess. Rektoro is seen as a cute yet disgusting person, but he likes to show a fun side rather than a viscious side. He likes to smoke too but he only smokes often. He can get cocky at times but everytime he does, it bites him on the butt. Despite this, he always loves a competition and doesn't matter if he loses or not. He does it for the fun.
Rektoro's skin is Azure blue while his underbelly is cream white, his claws are black and his eyes are yellow. He wears a black crocodile skinned jacket, forest camo pants along with a leather brown belt, the black crocodile skin bracelet and black boots with dark grey soles and dark grey laces. He also sports a heavy/gruff aussie accent.
hope you enjoy this new guy

Rektoro-(c)me
Renekton-(c)Riot Games