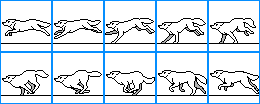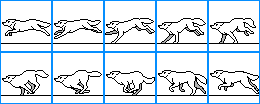 Watch
EDIT: FREE TO USE AND EDIT. Just don't sell them for points! If you have photoshop I can't help you! I do my animation on www.iaza.com.
TO USE: Color. Cut frames out and save each one individually. Animate. (www.iaza.com)
This is an icon based off the ending theme for Wolf's Rain. I wanted a new icon and thought it would be nice to share. I'm sure it's been done before, but I couldn't find a version of it to use, so I made my own.
To use this, download this and start from the top left wolf. Go from left to right, then go to the bottom row and go from left to right. You should have ten total frames. If you want to add wings or change it up, go ahead.
It will look like
[link]
when animated.
Rules:
1. Credit me for this base
2. Do not sell this base for points. I made it a free base so anyone can use it. If you want to edit it for someone else and give it to them for free, that's fine, but I don't want money to be involved.
Thank you!