Recently i have been kind of struggling to get through making my comic, and i'm going to be starting college by september meaning i'll be having even less time to work on it. i considered this before, but now i really think it's one of the best choices for now...
would you guys be okay if i released the rest of the chapters of my comic as just sketches?
Example: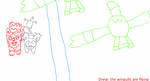 i know it's lazy, but it would extremely help, i would have each chapter finished faster and i don't need to worry myself over doing lineart and coloring which can get tiring when doing so many in a row
also if you all say yes, that means i can prepare to release chapter 2 by the weekend!
please let me know what you think in the comments