PRINT GIVEAWAY! READ BELOW!
Before you read, this is for this Tumblr post right here:
drew-green.tumblr.com/post/245…
not simply copy and paste this text onto your tumblr and blog it. If you choose to participate, PLEASE reblog that tumblr post!
Hey folks!
As many of you know, I'm currently running an Indiegogo campaign (very similar to Kickstarter) to raise money for the creation of second episode of The Super-Gay Adventures of Ross Boston, my webcomic. The end goal is $5,000, and with about 10 days left, I am still short $2,731, so I'm not even quite halfway there yet! That's where you guys come in to help.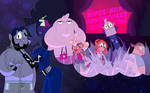 There are quite a few perks available for donating various amounts to the campaign, and one of the higher-up perks is this 11x17", campaign-exclusive print. Ordinarily, you'd have to donate at least $130 or more to get it (with a host of other really awesome stuff included), but by reblogging this post, you'll be entered in a random drawing to win the print! The rules:
-One winner will be chosen at random.

-I will ship internationally, so it doesn't matter where you live.

-You may reblog as many times as you like, thus increasing your chances of winning.

-You MUST leave this text - with all links - intact and allow others the chance to reblog this post, too. Otherwise, it kinda defeats the purpose.

-You need to have your ask box open so I can get in touch with you in case you win. (Alternately, if you have your email or a link to some other means of contacting you available on your tumblr, that's fine too.)

-Likes are great, but only reblogs count as an entry into the contest.
So, get to rebloggin'! And be sure to take a look at the campaign and consider donating. Remember, every dollar counts, and I could really use your help with this!
Thanks!
~Drew