Hey folks!
Out of consideration for the fact that my regular commission prices may be a little steep for some people, I've decided to offer a cheaper alternative to those who cannot afford all of the bells and whistles.
I'm offering a simple, full-bodied, cell-shaded character drawn in Photoshop (with the pencil tool), flat color background (white, black, red, green, blue, whatever color you want), all in my style, for only $25!
The results look something like one of these guys:

What can I draw for you, you ask? I could draw your original character, a character you like from something you are a fan of, a caricature of you. Whatever can be categorized as a character, I am probably willing to do it. Your character doesn't even have to be human (though admittedly, I am best-suited to draw humanoid characters but I'll go out of my box if I have to).
How it works: Send me a note with the details of your commission (include links to any references of your character, the color of the background you want, maybe even provide a reference for the pose - try to keep that fairly simple - and
don't forget to include your email!
), and once we have locked down all of the details, I will provide you with my Paypal address. Payment of $25 is received up front through Paypal only. I will get to work and send you the lineart of the character to see if you want any changes made (I would send a sketch but the sketches for these are
very
sloppy and quick). Once you've approved, I will color it, send you the final image, and we're done! Simple as that!
For now, I will open five slots. Please, send me a note to get your spot on the list and get the ball rolling. If the list gets filled and all goes well, I will re-open the $25 character commissions once I have gotten through these first five.
$25 Character Commissions List:
1. Mike K. (Non-DA commissioner)
2. Jason P. (Non-DA commissioner)
3.

4. Anonymous commissioner (Non-DA)
5.
(Commissions are not "closed..." even if all 5 spots are filled at any given time, I will still accept more than just 5, so if you're interested, do not hesitate to send me a note!)
Completed Commissions: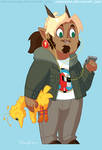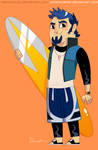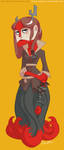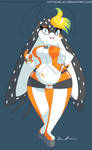 Happy commissioning!
~Drew
PS: You can find a listing for my regular commission options and prices here:
freakshow6.deviantart.com/jour…
commissions are still open for those interested. Follow the directions detailed in that journal if you are interested. ;D
Don't forget to join

, the DA group devoted entirely to my comic, "The Quest for Love with Yoki Safari!"