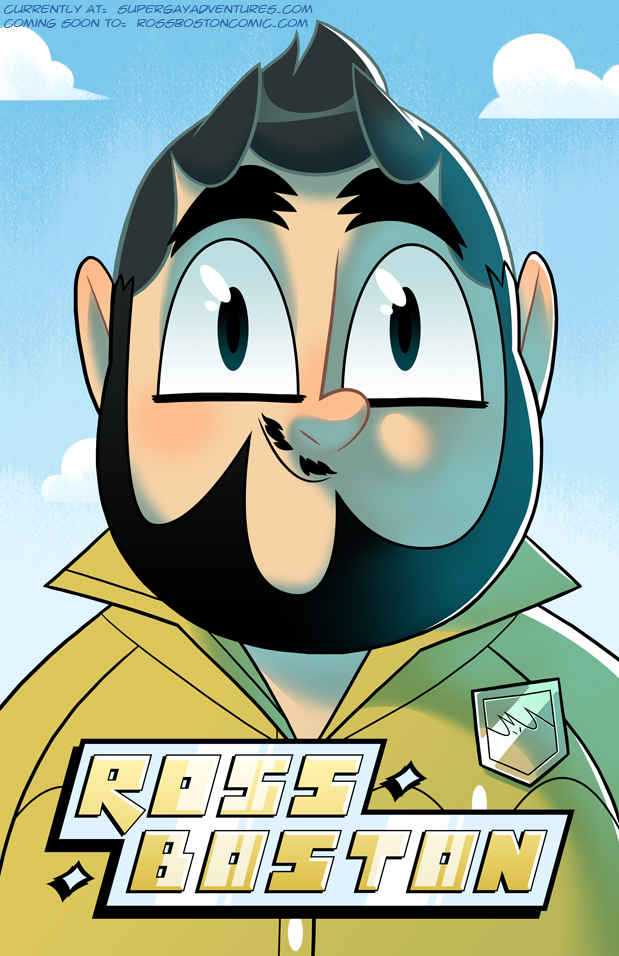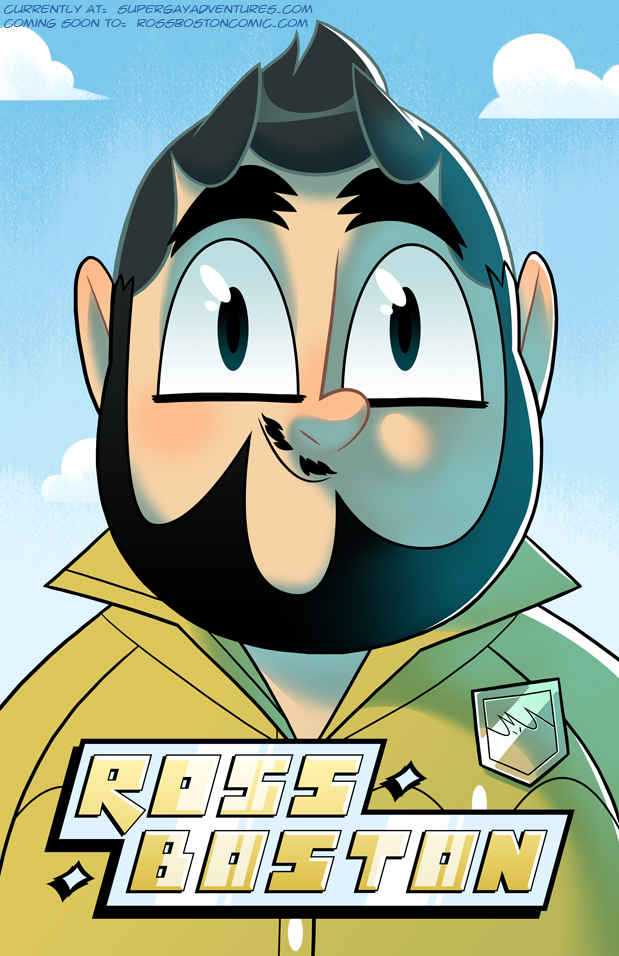 Watch
Hey folks!
For about 6 months or so now, I've been troubled over the name of my webcomic (
supergayadventures.com
). I recognized that the comic - in theme and in spirit - would change and evolve, and that ultimately, the current name of "The Super-Gay Adventures of Ross Boston" was going to end up being the joke that no longer made sense. It's title may one day hinder it, preventing it from being taken seriously. Furthermore, it works against the idea of using a largely LGBT-friendly cast without "making a huge deal of it" and then...well, making a huge deal of it in the title. It just doesn't make sense.
That is why, effective at the start of Episode 2 of the comic, the name will be changed simply to "Ross Boston" and will be at rossbostoncomic.com. The current supergayadventures.com will redirect to the new URL, so you shouldn't have to change your bookmarks or anything, but you can if you like. If you do, wait for the new URL to be live. Currently, it is still the old one.
I went through literally dozens of ideas before I finally settled on the obvious. At its core, "Ross Boston" is a super hero comic, and most of those take on the name of their hero. Batman. Spider-Man. Wonder Woman. Thor. Etc. It seemed fitting to continue to put the hero's catchy name in the title, while shedding all of the unimportant and obvious information.
The first episode of "Ross Boston" ends this week, and it is highly likely I'll be taking next week off of posting to further prepare Episode 2 to begin the following week, including a small handful of website changes - though nothing major beyond the new URL.

I think I liked "The Super Gay Adventures of Wizard Wayne" more. I kid. "Ross Boston" is pretty awesome. Love the drawing, too.
Reply

Oh and I just noticed, you may want to check the compression method, as it's really chunky and "pixelated" on this particular image. Specially on the eyes, but it's notorious around the line art in general.
Reply

That's nice. I agree the title was a little bit off. And the shading is really, really nice! Looks so soft!
The only thing that kinda bugs me is that the black outline of the sideburns goes dark all the way up.

I've seen the title in B&W in your blog, and I must say it gets a little lost when you shrink it, because the outlines are so thin.
Have you tried having the letters as plain black without the cast shadows??
Reply

His sideburns have always gone just a bit over his hair. It's just something that I like.

And the black outlines on the lettering of the black and white version of the logo don't appear to get lost on either of my monitors. Is your computer displaying things at a lower resolution or something (as suggested by your other comment)?
Reply

Oh, I really don't think it's my monitor, I calibrate it exhaustively, as I've worked in print and it really bugs me if the color isn't just right!

In what format do you save your pictures? I made a little manipulation on the image so what I'm talking about is seen more clearly:
[link]
And I should have expressed myself better, I'm sorry! What I meant is off course the lines don't get literally lost, but the logo gets a bit difficult to read when you make it smaller, like, really small, which you may have to use if you ever do a printed version, so it's better to be prepared, right? Here's an example of other options, that I imagine you may have considered:
[link]
All three are readable, but which one reads better? Hope some of this is useful to you, man

Reply

Or perhaps more accurately (because my last message could probably come off sounding really bitchy and I'm sorry for that if it did), if I ever ran into a situation where the logo did have to be that small, I'd probably just make the letters themselves black. It's a pretty versatile logo!
Reply

I dunno...I saved the picture from Deviantart and did the same manipulation you just did, and it didn't look blocky and artifacted at all, really. I'm going to ask some of my friends about the quality the way it appears to them, but I'm honestly really unsure as to why it would look that way for you and I know others would have told me if it looked that bad. Did you try looking at it on tumblr as well?

As far as making the logo that small, I can't see myself making it that small in any situation where it would need to be black and white. I honestly can't.
Reply

with you 100% on the name change, can't wait to read more!
Reply

I like the shading on this picture!
Reply