Hello again!.

Phoenix Dream RPG video game development team has decided to make yet another contest.
This time the contest is to create and draw a magic or any other ability of your own design for our new and first game
"Faded Haven"
.
The most important aspect here will be the magic/ability itself, the creativity, originality, imagination, technical thinking and style of presentation.
We have prepared a quick form to fill with the info of magic/ability you come up with.
Name:
(Just write the name of your magic/ability here)
Description:
(In one line give the magic/ability a quick description. It can be explanatory or funny, or a quote, or just something random. You decide

)
Effect 1:
(all abilities in the game have 9 levels of growth. 1st is when you learn the ability and so is the basic effect that it does)
Effect 2:
(starting from second effect effects increase the efficiency of the basic effect or add an additional effect. I'll list a few examples in front of the next few effects)
Effect 3:
(Increases the chance of success to 70%)
Effect 4:
(Increase the speed of mp regeneration by 30%)
Effect 5:
(Increase the attack speed when using a staff by 40%)
Effect 6:
(Increases damage by 50% and adds stun effect.)
Effect 7:
(Increases the duration of effect by 30 seconds)
Effect 8:
(Affected target can't be affected by any remaining magical effects for 5 seconds)
Effect 9:
(Increases the speed by 15 more points and can be casted on whole team at once. And of course these are just a few examples, you can invent god knows what.)
AoE/reach:
(This is where you write what area does the magic/ability affect and if it has reach how far it goes. We have our own metrics for this that I'll list below the form. There are of course also abilities that are either: Individual (casted on target no matter where it is and affects only the target), Self (affects only the caster) and Passive (always active and require no animation or whatsoever))
Cost:
(This is where you write how much MP (magic points for magical abilities) or EP (energy points for physical abilities) does the ability cost to use. The MP and EP pools at max lvl go in thousands and start with a hundred or two)
Appearance:
(here is where you describe the appearance and animation of your magic/ability)
Requirements:
(All abilities have requirements to be learned and they should be listed below)
*Stats:
(here goes required stats to learn the ability. The basic starting stats for a character are between 10 and 25 for strength, magic, etc and between 200 and 500 for HP/MP/EP)
*Abilities:
(Normally this is where we write what ability needs to be learned before this one, but since you have no way of knowing (except asking me) the existing abilities just write what kind ability. For example: to learn Regenerate you would need to have learned Heal before.)
*Other:
(and all the other requirements that could come in your head go here)
Characters:
(This is where you write for which character is the magic/ability meant. I'll list the characters below.)
Damage, healing and other rates:
Low: 10 – 250 / Medium: 250 – 700 / High: 700 – 1000 / Huge: 1000 + (don't forget that this is just the base damage that in game will be modified by stats and other aspects)
Basic length of effect (poisons, curses, buffs, etc):
15 seconds.
Metrics:
our metrics are b=blocks pretty simple isn't it? One b = 36 cm or 14.2 inches. It's a cube. In the game characters will have a space they take in the game world. To know how tall a character is in these metrics just take his/her height and divide it by 36. Which in most cases is around 5b. WoP: Width of passage represents the space to the sides the character takes for a basic humanoid it will always be 2x2 b
Melee attack distance:
The distance in which the character deals the melee attacks. All the basic weapons are Width of passage (WoP) + 1b Weapons like spears and like go further, for example make a spear: WoP+2b
Projectile distance:
All the projectiles have unlimited reach unless they are short distance projectiles, though I can't imagine any atm.
Movement speed:
Walking : 3WoP/s ; Running: 9WoP/s
And well if you don't understand all this metric just use the basic, cm or inches
Characters: Dalia Wydman
is a 20 years old, merciful human girl with strong character who saw her parents being killed by a man named Kayro and now is traveling the world searching for the man to get her revenge. She is a Gunner and Crimson mage. Her weapons are staffs, bows and guns and she uses heavy armor.
Dreik Stormtracker
is a 17 years old, friendly and adventurous half-elf guy searching for adventures and willing to help Dalia. He was born in a noble family and after the loss of his parents raised by a dragon. He is an Elemental mage and Warrior. His weapons are swords and shields and he doesn't use armor.
Sidix Blackwood
is an 18 years old, ironic, skilled and loyal human guy who helps Dalia to escape from prison. After the loss of his family he served in Kauton castle. He is a Gunner and Amulet Summoner. His weapons are guns and other ranged weapons as well as knives and he uses light and medium armor.
Mai Tcheno
is a 19 years old, joyful and hyperactive human girl who joins the team because her father's spirit has embodied in Dalia. She is daughter of one of the heroes who ended the age of terror, Cronos Tcheno. She is Wild mage and Rogue. Her weapons are daggers, swords and shields and she uses light or no armor at all.
Kacy Blackwood
is a 17 years old, clumsy human girl who is skilled in transport mechanics. She joins Dalia because Sidix is her long lost brother. She is the chief engineer in Ludlow and good friends with Migraine. She is Necromancer and Doctor. Her weapons are wands and clubs and she doesn't use armor.
Cain Nael
is a 19 years old, distanced human guy who escaped the prison together with Dalia. He is a son of a tyrant who once ruled over the Mystic continent, but was brought down by his sons. He was accused for killing his brother. He is Dark knight and Sphere mage. His weapons are any dual weapons and he uses heavy armor.
Amnesia Berenice
is a 33 years old, feminist vampire girl who hates Dalia and joined her by Kayro's request. She is long lost daughter of Migraine and was turned into vampire at the age of 21. She is a Beast Trainer and Dark mage. Her weapon is a whip or no weapon at all and she wears light armor.
Akuma
is a 5000 years old raven demon guy who looks at the world in his own way. He initially stole team's ship, Argo, but when was caught proposed to help them in exchange of his freedom. He has spent most of life in a magical sleep. He is a Thief and Fighter. He doesn't use weapons and don't wear armor.
Cachi Tori
is a 26 years old, talkative and kind human guy whose passion is history. He joins Dalia to help her find some materials for transforming Argo into an airship. He is Weapon Master and Holy mage. His weapons are any two handed close combat weapons and he uses no armor.
Sonia Dao
is a 20 years old, heroic human girl. She helps Dalia to escape from prison. She is former slave and now a local hero of Kauton. She is an Assassin. Her weapon is Katana and throwing weapons and she uses light armor.
Migraine Berenice
is a 58 years old, Rum loving and hilarious human woman. She brings Dalia over the seas for the first time. Migraine is the most famous pirate captain, best friend of Kacy and mother of Amnesia. She is a Pirate. Her weapons are cutlass and an old musket and she uses light and medium armor.
Kayro Whait
is a 21 years old, mysterious human guy who chases his past. He is the one who killed Dalia's parents and he joins Dalia in order to stop Astaroth and M.I.L.O. He initially works together with M.I.L.O. and Astaroth. He is former slave and victim of Blood soldier experiments in result of what he got Lich King inside him. He is Dark paladin. His weapons are swords and he uses light and medium armor.
Rules:
1. You may enter as up to 10 entries but each entry must be significantly different. So, don't submit a new entry if all you did was change the name or move something over a bit.
2. The same person can't get more than one place no matter how many abilities he/she posts.
3. Your entry should be of your own work.
4. Your entry should be an unique magic/ability, get creative!!
5. Deadline? Contest starts NOW and ends April 10th, 2013.

6. The designs should be posted to your DA gallery along with a link to this journal post so people can easily see what the contest is all about.
7. On your art piece, you must include this tag in the TITLE so that I know you're entering it into the contest: (Phoenix Dream Magic contest) or simply (PD Magic contest)
8. You need to tell me about your entry by sending me a note or writing in a comment below.
9. Judging will be done by Phoenix Dream team, but all the thoughts of other people will be taken in mind so be sure to leave a comment.
10. In case the contest don't have at least 5 entries it will be annulled.
11. If you have questions check out FAQ. or ask me through a Note or in a comment.
12. The Prizes aren't yet complete. If anyone has any ideas for a prize, or perhaps knows an artist who would be willing to offer his drawing as a prize, or has an artist whose drawing he wants please tell me. I would offer my drawing but I believe we all agree that I suck at drawing

Prizes:First place:
- Your magic will be used in the upcoming RPG game "Faded Haven" with all credit given to you. .
- Opportunity to work with Phoenix Dream team.
- 200 Points here on DA
- A print of
Fireflies
by

- 3 month journal feature both here and in Phoenix Dream group.

- 12 Month Premium Membership
Second place:
- Opportunity to work with Phoenix Dream team.
- 100 Points here on DA
- A print of
Autumn Elerus
by

- 2 month journal feature both here and in Phoenix Dream group.

- 3 Month Premium Membership
Third place:
- Opportunity to work with Phoenix Dream team.
- 50 Points here on DA
- 1 month journal feature both here and in Phoenix Dream group.

Participants:



















Entries:
:thumb358472123:
Pheonix Magic contestPheonix Magic contest
Name: Dark eclipse
Discription: The caster engulf itself into darkness, then engulf the enemy with darkness, hitting them with strong fire/ice magic. "Darkness shall be your friend, and let the enemy tremble in fear."
Effect 1: Partially engulfed in darkness, castes small fire magic. 30-90 damage
Effect 2: Partially engulfed into darkness, casts small ice magic. 40-100 damage.
Effect 3: Partially engulfed into darkness, casts both ice and fire magic. 100 Damage.
Effect 4: Half engulfed into darkness, casts mid ranged fire magic. 140 damage.
Effect 5: Half engulfed into darkness, casts mid ranged ice magic. 160 damage.
Effect 7: Temporary becomes invisible while engulfd in darkness
Effect 8: Engulfed entirley in darkness, cast high ranged ice magic 400 damage
Effect 9: Engulfed entirly in darkness, cast both high ranged fire/ice magic 900 damage
AoE: Hits individualy, hits both close range or long range.
Cost: 99MP (magic points)
Appearence: caster cloaked in darkn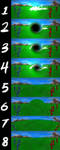 :thumb361364362:

PD Magic contest - Lightning CrossName: Lightning Cross
Description: The user focuses lightning energy into the blade and strikes the facing enemy twice, one vertical left to right, the other horizontal down to up. Longer strike time and paralysis effect added as effectiveness grows. Can increase range depending on weapon equipped.
Effect 1: A single horizontal and vertical slash facing forward. (Damage = 60 - 190)[Paralysis Success Rate = +10%]
Effect 2: A single horizontal and vertical slash facing forward. (Damage = 120 - 260)[Paralysis Success Rate = +20%]
Effect 3: A single horizontal and vertical slash facing forward. (Damage = 150 - 320)[Paralysis Success Rate = +20%]
Effect 4: A single horizontal and vertical slash forward and to the right. (Damage = 205 - 402)[Paralysis Success Rate = +30%]
Effect 5: A single horizontal and vertical slash forward and to the right. (Damage = 237 - 477) [Paralysis Success Rate = +30%]
Effect 6: A single horizontal and vertical slash forward, to the right and left. (Damage = 310
FAQ:
Q: So what's a raven demon? Is it completely free for interpretation?
A: Raven demons have green eyes with feline pupils, arrow shaped tail and devil like horns. (click at character's name for appearance). They can also turn into ravens - hence the name. The average lifespan of raven demon is around 15000 - 25000 years. They are able to fly or teleport, are stronger and faster than humans, have good vision and good ears. They usually practice stealing. They are rare and usually are killed by other demons or other races on sight.
Q: I had a look and I'm not sure how the battle system works, do you think you could give me more information?
A: You can read about the battle system in our DA group's journal:
phoenix--dream.deviantart.com/…
Q: Do I need to do this in a journal or as a written piece?
A: The best way would be that you do the drawing and add the information in it's description. Otherwise written piece in the next best option.
Q: How do I draw it, in a way to describe how it works or just a still image of how it does damage (if it does)?
A: Draw it in a way that feels most suitable for you. If it's a simple magic like fire that burns the enemy then you can do a just a "still image", but if it's an arrow that transforms into a wolf that throws opponent in air and bombards it with fireballs then descriptive image would be more suitable.
Q: Mmmmh, are there any established rules for magic or can I make it up?
A: You can pretty much make the rules up yourself

as long as it doesn't conflict with anything I've written in contest description. Though I don't see anything that could conflict with it

Q: I am sorry I can't draw for squat and I have no way of putting the picture on the net...
A: Well you can still enter without picture, but that would slightly reduce your winning chances.
Q: So by blocks, is the view isometric (one of those top down grid based RPGs) or is it the standard view of the bad guys and good guys from the side, with a small gap in the center?
A: Battle screen is using 3D third person to isometric camera. Camera changes the zoom depending on how close battle participants are to each other aiming to have all of them on the screen. Player also has option to zoom in the camera on the character he controls, make it fix to show the whole battle area and to turn it in 360° degrees.
Take a look at our website
or
Follow us on Facebook
---------------------------------------------------------------------------------------------------------------------------------------------------------------
CHECK OUT THESE AWESOME ARTISTS!!!!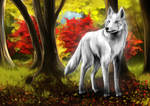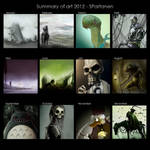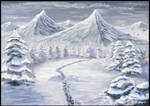 Seeing it's the last day I thought of this skill earlier in the week. Thought I'd try submitting it to this one.
[link]