• grape_vein for
model
• MIMOHE for
camellia tree
• Alexander Marushin for
smoke
• loflo for
camellia
•
steppelandstock
for
Passion flower butterfly
•
Nolamom3507
for
Butterfly 5
and
Butterfly 7
•
EveLivesey
for
Gatekeeper Butterfly
The rest is painted.
Hope you like it!
Before and After: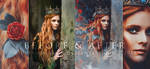 Contact me at rosescreation@mail.com for more info

More on
roses-creation.com

My works are created by myself using my own imagination and creativity.
Please do not use, copy, reproduce, redistribute or claim my artwork without written permission. By doing so you will be violating terms of my copyright.
Image size
4488x3071px 16.75 MB
IMAGE DETAILS
Software
Adobe Photoshop CS6 (Macintosh)