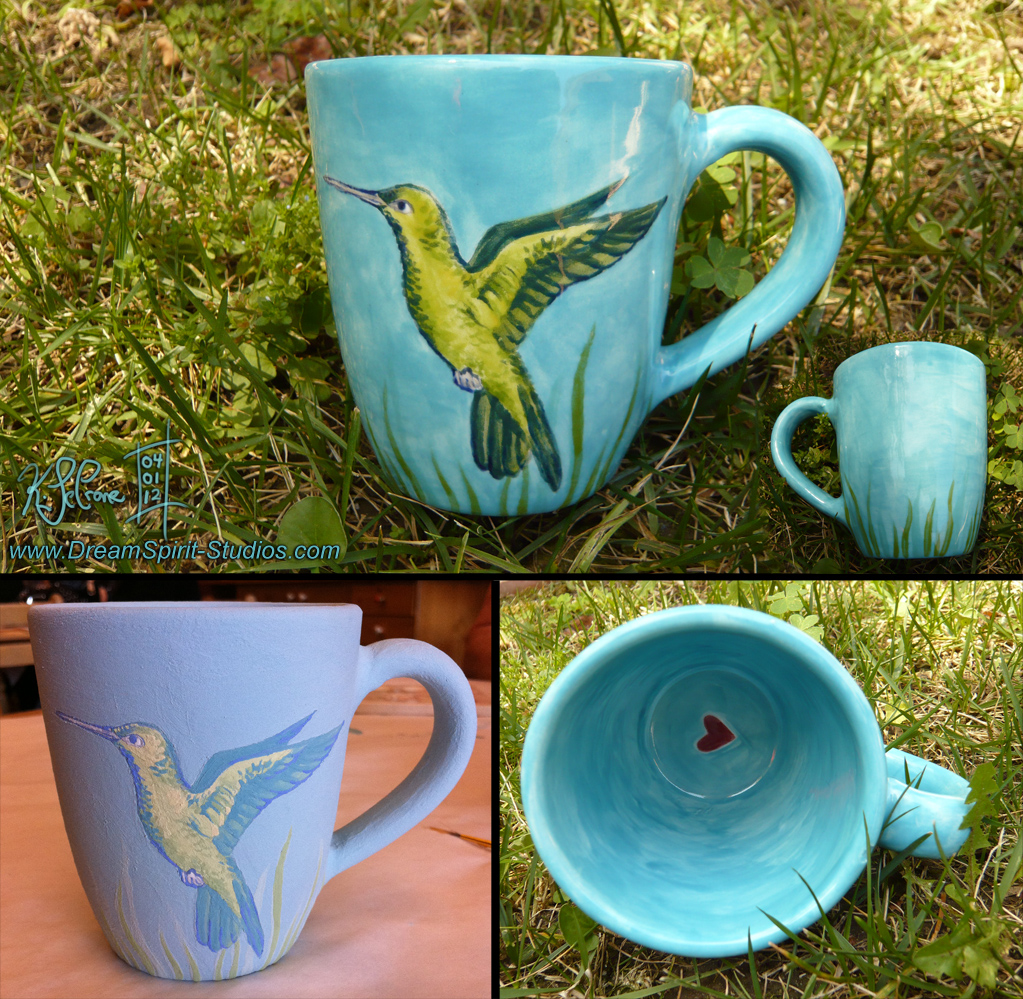 Watch
Completed on approximately April 1st, 2012
The last few months have been rather rough for me, and while I considered uploading this here as just "Tada! Hummingbird mug!" the project actually has quite a lot more significance to me, and so it felt better to me to instead offer up the significance of this piece, and how it relates to the recent passing of my grandmother. I'll try to keep it brief.
My mother and I are incredibly close, and this closeness carried over into our longstanding love for my maternal grandmother/her mother. My grandmother and I share the same birthday, and truly she and I were in so many ways cut from the same stone. Over the years, her health began to fail her, but her spirit stayed strong, and even up to her last month with us, a simple tune or familiar melody could send her "booping," singing, and smiling as she stood with her walker. Her smile and love could light up a room.
As my grandmother's health worsened, I went from visiting with she and my mother on an almost-weekly basis to staying with them at length and using up every drop of my stored vacation time to support them. To this day, I would not have done it differently, and my time could not have been better spent.
In any case, on the days leading up to her passing, I, as many people in my position probably have done, continued to look for signs that would tell us how much time she had left. To reassure my mother and I and let us know it was okay, much as we spent countless hours at her bed-side talking with her, reassuring her, reading books to her, singing to her, listening to music with her, etc. She had a burst of incredible clarity and alertness that she'd seemed to save up for me that I will keep with me the rest of my life, and which utterly, truly made me believe that even if those close to passing seem unresponsive, they can still hear us, but I digress.
On the morning before my grandmother's passing, my mother and I took a quick break to have some breakfast while someone from hospice watched over my grandmother in her room at home. The last few days had been utterly stormy, rainy, and miserable, and it was my mother that pointed out that the storm had broken and it was warm and clear outside. She suggested we step outside into the garden for a quick breather, and I agreed that the fresh air could do us some good.
When we stepped out, however, my mother motioned for me to be still, and pointed to a hummingbird some five feet away or so that was behaving quite peculiarly. Now, in Southern California hummingbirds aren't exceptionally rare, but they also aren't very common in that area, and there really weren't any flowers around, so it was strange it was there to begin with.
The hummingbird was hovering an inch or two from the ground, and it was moving back and forth in odd patterns that seemed to form a line along the screen door inside which my grandmother was resting. It would pause, fly along it, come near to my mom and I, then go back, over and over, sometimes coming within inches of my mom and I, who watched on with awe.
This went on for over four minutes.
Had I not thought to record some of it on my iPhone (which I realized midway through was in my hand), I wouldn't have believed it. But it went on and on. The little hummingbird hovering, then zooming just over the grass, parallel to the screen door, then over or around my mom and I, higher-up and eye-level, and then back again.
It was an incredibly surreal experience.
I have shown the video I took to a number of avid bird-watching friends, and none of them can explain it either. It just… was. And I'm sure there are a lot of possible explanations out there: might it have been my grandfather in spirit? An angel? Simply a sign meant only for my mother and I? I know in some Native American mythologies they are symbols of resurrection, or messengers of the dead but I don't pretend to know what it was or how it came to be there, other than to know it was powerful. And even as my uncle unknowingly hollered to us from inside and the hummingbird flew off, I just knew it was going to be okay. That my grandmother was going to be okay, and my mother and I were going to be okay.
A couple weeks after my grandmother's passing, my mother and I went to Color Me Mine to relax from everything (including all the funeral arrangements) and paint some ceramics together. But I already knew what I wanted to paint.
I ended up later giving this mug to my mother for Mother's Day, and though it didn't turn out quite as I intended (it's probably been about 15+ years since I used paints for glazing ceramics and wasn't sure how to layer them properly), it really means a lot to me. I tried to paint the colors similar to how I remembered them, and opted to also put the blades of around the bottom to try and recapture the moment I'll forever have in my mind, and heart.
Since it was painted around a curved mug, it obviously distorts the figure a bit. The heart on the inside was inspired by a bowl my dear friend Tessa Thornberry made for me.
I hope you enjoy the mug and the backstory that went along with it, and if you love someone, always remember to tell them.
Painted freehand over a mug cast by Color Me Mine.
Personal Art.
Other hummingbird pieces below:
K. LeCrone on Facebook
K. LeCrone on Twitter
K. LeCrone on Tumblr
K. LeCrone on Google+