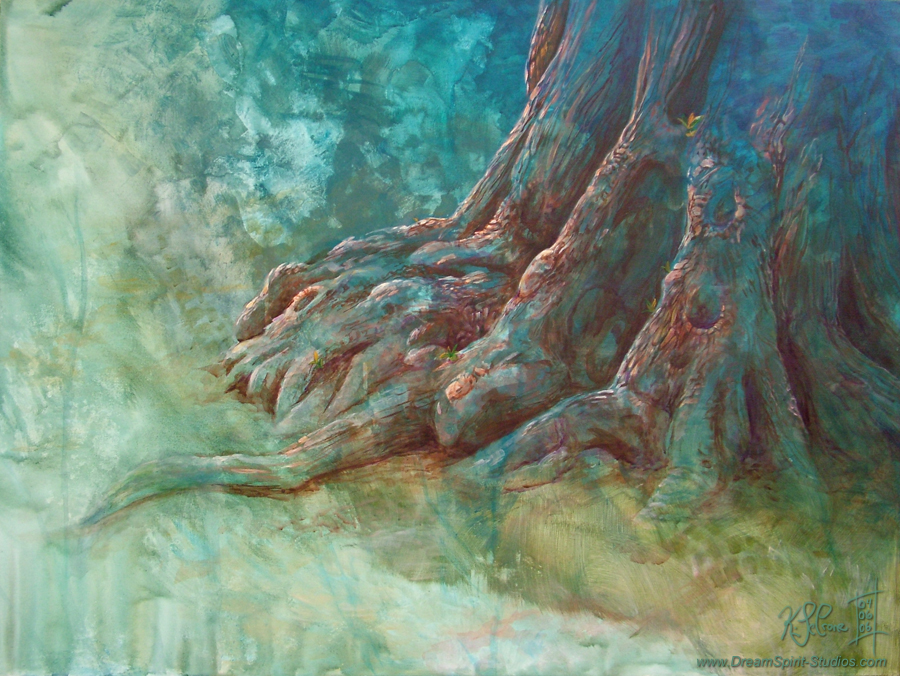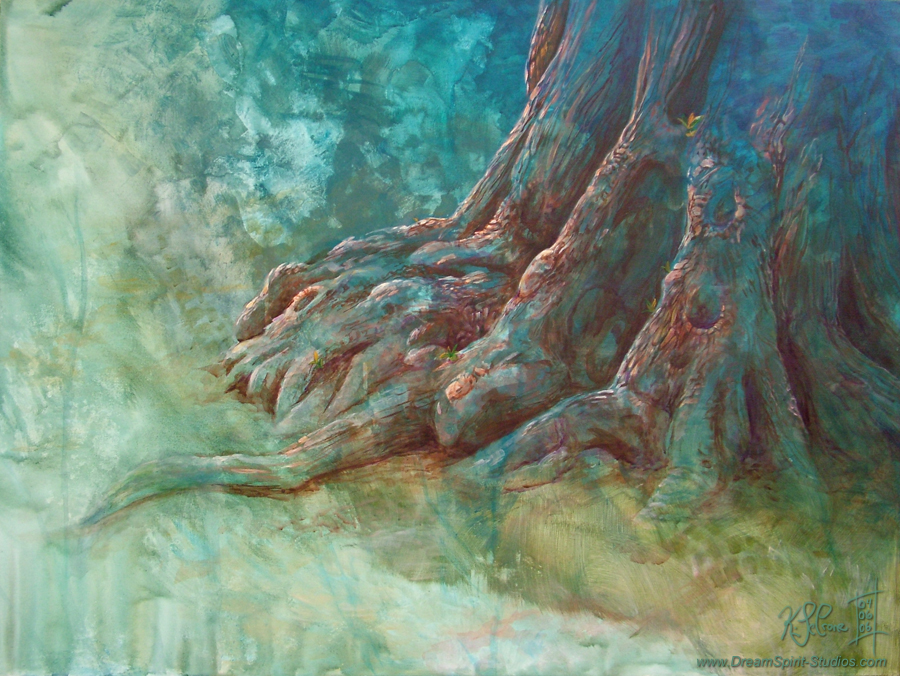 Watch
Old Art
- Completed on April 6th, 2006
This piece is rather huge for me: about 30 x 40 inches I believe, and is all acrylic. And the colors are somewhat washed out, but I'm sure you can get the general idea.

Instinctively I wanted to cover everything up and make it very hyper-realistic, so this was a fun self-challenge for me, and to this day it is one of my favorite paintings that I've ever done.
This painting started many years ago as, well, an underpainting gone awry. It was done for one of the only art classes I took in college, and while the prompt was to paint a realistic outdoor still-life, it took on a sort of ethereal quality all its own, and graciously the professor let me me take it in this direction. (She also wanted me to be careful not to overwork it...)
I actually painted it outdoors under some dappled leaves and lighting, and at one point I loved the shadows and how they played over the canvas so much I painted the shapes of the branches and leaves onto the canvas (you can see their darker shapes here and there even now). It was so much fun and loose and free! .... which is about as polar opposite as you can get from my sketches, I suppose...

Can you see the areas where I "painted" the shadows falling over me from the dappled tree canopy under which I worked outdoors?
There were a lot of neat, playful, experimenty things I did with the paints to form some cool patterns and brush-strokes in both the underpainting and the more detailed layers atop that. It's certainly interesting seeing how my usual work translated to this.
It still feels like it's "growing" to me.

Oooh, I love this! Sublime and truly ethereal!
Reply

beautiful colors on this one, really like it <3
Reply

Thanks so much! I actually turned this into a large woven throw, too, and I really love it. The colors make me comfortable and happy.

Reply

I'm in a similar situation. Underpainting is going awry and I need help. Did you use any tutorials or know of any I would find useful?
Reply

I honestly didn't use any tutorials for this one, so I wouldn't know where to point you. I'd just suggest to keep on going, and hopefully you'll get a feel for what you're aiming for.
Reply

Reply

Reply

Thanks so very much!

This is definitely one of my favorite palette's (on a personal level). All tealy green and earth-toned.

Reply

Wow! Acrylics!? That's intense
Reply

Thanks so much!

This was/is the largest painting I've ever done, so it was a big change from my little stamp-sized doodles.

Working with acrylics was definitely an interesting experience at this size, too, and was actually quite "freeing."

Reply

Oh yes! I just rekindled a love for painting and it IS very freeing and relaxing. It can be a battle too though haha
Reply

Definitely! I think one of these weekends I will try to see if I can squeeze in some RL painting. I'm still trying to figure out when/if I might be moving so I'm not as eager to dig through things and take out my easel and paints and brushes and supplies until I know the dealio, but it's been way too long (....5+ years? ieeek!) since I've touched my acrylics.
Reply

xc aw yeah starting a project in the middle of stuff always throws one off!
Reply

OH goodness yes! I've gotten better over the years about trying to finish the majority of projects I start (which is at least a hundred times better than how I used to be years ago.... oh god the amount of unfinished work I have stored...)
Reply

haha ah I understand, I have a list of things I want to do but always forget when a new idea comes along. I've learned that if you feel like working one one thing, do it! Cuz your brain could get dis-interested next time you want to finish, if that makes sense haha
Reply

No no, that TOTALLY makes sense! I suspect it's a constant inner-struggle among tons of artists as well. There are always SO many things to create, and so little time!
Reply

Reply