Hi everyone!
Lately I've been busy working on my upcoming novel, which I'll be releasing in both portuguese and English, as an ebook, hopefully in the beggining of December.
For now the novel has the temporary title of "Angel Gabriel - Blood Bound", I'm struggling with a better title and will have it soon enough.
In the meantime, I've been working on a few character drawings, as you might've seen here.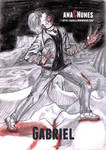 I'll be briniging news soon, but in the meantime you can visit my
writer's blog
(portuguese only, for now) and my
art blog





Clubs:
dreamgazer-nightange.deviantar…