I decided to separate everything to make it much simpler for people to read and find what they want. Also because my previous journal is no longer loading all images... So for this journal commissions are for game related stuff.

















RULES/FAQ:
RULES/FAQ:

No refunds, cancellations, exchanges, or returns allowed (I only send refunds if I can't finish)

reposting your own commission is allowed only if the watermarked version is posted

Do not edit/trace/or resell my works

I have the right to refuse service to anyone

Payment must be made upfront

2 orders per slot

I only accept clear references

for free games only (indie and commercial costs extra)

1 free revision in sketch phase only

I don't do OC X Death the Kid romance ships

turnaround times vary per commission (there is an extra fee for faster delivery)
rpg maker portraits (linearted and fully colored) $8 ea./700 pts. ea. face
*no background can be added for this option
*extra expressions are $2 ea.
RPG MAKER XP VX ACE OR MV SPRITES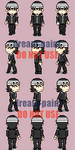 $25 each

(please specify which engine it's for)
LOGOS FOR GAMES

$25 each
(must give details of game)
















SLOTS:


------------------------------------
#visualnovel
#logo
#game
#anime
#rpgmaker
#commissionsopen
#spritesheet