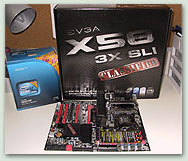 I'm really excited my new mobo (motherboard)
EVGA X58 Classified
and Intel Core i7 Processor just arrived! My old computer is now seriously getting out dated. My current computer was my first custom build computer, it has served me very well over the years. But it is now maxed out. I can't speed it up or add anymore to it, and its really starting to lag behind. So now the time has come to build a new mean machine. I've been doing a lot of research and planning for this new computer for awhile now. I finally saved up enough to start buying parts and putting it all together. This is not a gaming computer, its over kill for games. I'm designing something that can handle high-level
CGI graphics
and HD video production. I know it may not look like it at the moment with my lack of updates, but I am getting more serious with my artwork. One of the main problems was not having the proper tools for the job. This will give me the ability to do what I really want to do much faster and a lot better.
The
EVGA X58 Classified
is not your average board. It can hold three
Nvidia GTX 285
cards for graphics rendering and one GT8900 just for physics processing, or two
Nvidia GTX 295
, which is like having 4 graphics cards on one board. That really is incredible! If I ran this board at its full over-clocked potential I would have to literally cool the CPU with LN2 (liquid nitrogen) or it will melt and possibly catch fire. Now that's what I'm talking about, some serious firepower! But don't worry, I wont push it to that point... yet.

I could go on and on about this board, but this
ComputerTV review
on youtube video did a fantastic job explaining all the features on this board. I really can't say more about it, except I love the brand new circuit board smell.

Anyway, I'm very excited about this computer build. This is the biggest, baddest machine I've attempted to build and I do have big plans for it. I hope to have it up and running by the end of this month.
Also don't buy this board if you are just going to use it for gaming. Like I said before its over kill for games. If you want to make an awesome gaming computer I would recommend this board
Asus Rampage II GENE
, which was my second choice.
Computer TV review
. It was also rated as one of the best motherboards of 2009. Its cheaper, more practical and honestly its still over kill for gaming.