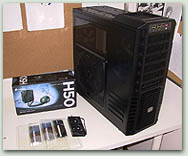 So I finally received some of my new computer hardware. It is taking a little longer to get my hardware together then I originally thought. When I first budgeted this new computer I was not planning to get the best of the best, but I decided not to cheap out and go for gold, or in my case go for broke! I have to sacrifice one more paycheck and then I can finally have this thing up and running.
This was a big shipment. I went with the
Cooler Master HAF 932 computer tower
. I needed a big case to hold all the big computer hardware. I also needed High Air Flow to keep all the parts cool. I'm very pleased with this case. It is very well designed and there is a lot of room for customizing. I like the look of it and it was also very affordable.
I was told by a lot of people that the Intel Core i7 processor runs hot, so I designed to go with the
Corsair hydro H50 CPU Cooler
. It's a simple CPU water cooler with a radiator. It was also very affordable and from what I hear it is very effective.
Next I needed some good RAM. I did a lot of debating on which RAM I should get. I decided on the
Corsair Core i7 Dominator 6GB PC15000 DDR3 RAM - Tri Channel, 1866MHz
. This RAM is specifically designed to work with the Intel Core i7 processor. It was very expensive, but it is one of the best I could get my hands on.
And finally I got Windows 7 Professional 64bit. Not shown in picture. It is available at a very good price at
TigerDirect
. I know I'm going to hear people complain how Windows 7 sucks, but really which windows version doesn't suck to some degree. Actually I was really happy with my current Windows 2000. I found it very stable on my system and it rarely crashed. I have yet to see the dreaded "blue screen of death". But now it is so out dated most new software will not support that version anymore. Anyway, Win7 is supposed to be somewhat better then Vista and I am trying to build for the future.
So that's what I have so far. It is really starting to take shape now. Next to come are the 1200W power supply, SSD (Solid State Drive) and a graphics card. Then I can finally fire this bad boy up and see what it can do! I can't wait! Hopefully in about 2 weeks it should be up and running. I'll keep you updated on the progress of this computer build.