I'm finally back. Sorry for the lack of updates. I have been very busy these last few weeks at my full job. Had to deal with some BS at my work, nearly quit my job. But the problem has been solved and things are going better now.
I also had some major problems with my wireless Internet. It was getting very unstable. The problem got worse and worse until it stopped working. The tech guy came out and fix it. It turns out when they installed the antenna it was winter and there were no leaves on the trees. Now that its summer the leaves came out and blocked the signal. They added a dish to the antenna to amplify the signal. Now my Internet works great again.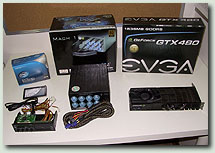 Back to my computer build. I finally received all my parts last week, but I haven't had time to put it all together yet. I have three days off this weekend, so I hope to finally get it up and running. Here is an image of my newest parts.
I decided to get an SSD (Solid State Drive) for my operating system. I got the
Intel's X25-M 160Gb
. It wasn't an easy choice. There are a lot of fast SSD's to choose from. To be honest there was no other component on my new computer that had me hesitating, researching and debating as much as I did with this SSD. It wasn't so much deciding whether or not I should get one. But which one? There is a lot out there, but some are still glitchy. The fastest SSD according to MaximumPC is the
128GB Patriot Torqx
. But I heard horror stories that there is a bad batch and they could die in a few weeks or month. After spending some time researching I narrowed my choice down to two SSD's, The
OCZ VERTEX SERIES 120GB
and
Intel's X25-M 160Gb
. Back and forth I went with these two. Both are very good SSD's. OCZ VERTEX is somewhat faster, the Intel X25-M has 40Gb more space and is the most stable, and it is also rated as one of the best SSD to get. So I settled on stability over speed.
I also got a 5.25" 7-in-1 Media Dashboard. It displays my computer temperatures and can control some of the case fans. It also reads various flash cards, which is handy to download images from digital cameras.
With all this hardware in this computer and future plans to run triple SLI I need some serious power. So I went with
Kingwin Mach 1 1220Watt power supply
. I love the design of this PSU and the aircraft cable connectors are also what sold me on it.
Last but certainly not least, I decided to go for
EVGA GeForce GTX 480
. This is one big nasty graphics card. This card has more computing power then my entire old computer just to do graphics work! The scary thing is I can put three of these on my motherboard! I was trying to get
EVGA GTX 285 2GBx
version. But it is nearly impossible to find now. The GTX 480 is much faster and as a lot of new technology that I can use with my CGI software, so I decided to spend a little extra cash and go for the newest graphic card.
So there we go, I finally have everything I need now to put it all together. I do not make a lot of money so it took awhile to save up for all the computer parts. I'm not building this computer just to show off or play games with. This is a business investment that will allow me to make my comics much more quickly and at a professional level I couldn't do before. I have big plans for this computer. I will keep you all updated on the progress of this build and future projects.