I finally had time to put my new computer together. I turned it on last week and everything works! Everything just came together and worked with no problems. This was one of the easiest computer builds I've done. I really enjoyed this computer build. There is just nothing more gratifying then picking out all your own computer parts, putting it all together and watching it come to life. But building your own computer is not for the faint of heart. You really should know what your doing. My heart was actually starting to pound when it finally came time to push the power button. I was just concerned that something may be faulty. Warranty would cover it, (well unless I brake it) but to get a replacement part could delay everything for weeks! So I was very ecstatic when it fired up and everything worked. The Bios detected all the hardware and my mobo on board diagnostic display said everything is working as it should. All I need to do is finish installing some software and transferring my data over from my old computer.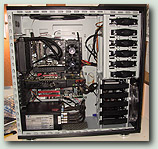 I am very happy with the performance of this computer, it is fast. Very fast! From the time I push the power-on button to when Windows 7 is fully operational is less then 40 seconds. That time probably could be faster but it seems the high-end hardware takes a few seconds to power up. But window 7 itself will load up in less then 15 seconds. So I am very happy with that. When I click on a program it opens instantaneous, big programs like adobe Photoshop opens in about a second. Literally in a blink of an eye. The first game I installed was fallout 3. I finally got around to playing it, and it is very cool game! I love it so far. With the GTX480 I have the graphics set to ultra-high. Everything is at maximum setting and the game runs beautifully. One thing that surprised me is how quiet this new computer is. The noisiest thing is the RAM fan. But everything else including the GTX480 fan is very quiet, much more quite then my old computer which has a lot of high-speed fans. It sounds like an old refrigerator!

The Cooler Master 932 case was excellent to work with. It gives lots of room to work and makes my big E-ATX motherboard look small inside it. Only problem I had was the CPU replacement hole was slightly off or too small. I had to put the water cooler CPU bracket on first before placing the mobo into the case, which I only realized after I installed the motherboard. So I had to remove the mobo, add the bracket and reinstall it. Not a big deal really. I found installing the water cooler to be very easy. Corsair even made a video how to install it on YouTube
www.youtube.com/watch?v=PUxoFi…
. The mobo they used in the example is in fact my X58 Classified motherboard. So that was helpful. They give a lot of good information in that video if you're interested in learning more about it. I removed the factory thermal Compound on the cooling block and used
OCZ Freeze Extreme Thermal Compound
. I've read good reviews about it so I gave it a try.
The water cooler seems to work well. So far I get 45C on idle and 80C on high load. So it is doing its job of keeping the CPU cool. Performance wise I was somewhat disappointed. While it does keep the CPU cool and it does run very quite. Its not keeping the cpu much cooler then a high-end air cooler. In fact a high-end air cooler would probably perform much better. One thing I can do is replace the 120mm corsair radiator fan with a faster RPM fan, the increased air flow through the radiator would cool it down more. I read people tried this and it helped bring down the temperature, but will it also increases the fan noise. A lot of people ask me what would happen if my pump stops working. In the Bios you can set the PC to automatically shut down if the CPU temperature gets to hot. This should prevent the CPU from being damaged. So I'm not to worried about that. I think the worst-case scenario would be if it leaks cooling fluid all over my mobo and graphic card shorting it out. That would be really bad. But the H50 seems to be very well build and I hope something like that would never happen. Anyway, I'll keep using this water cooler for now and see how it performs. It is doing its job and does look kind of cool.
Just to recap, here what is inside my new computer.
Case.................
Cooler Master HAF 932 computer tower
MotherBoard.....
EVGA X58 Classified
CPU...................
Intel core i7 920
CPU cooler........
Corsair hydro H50 CPU Cooler
RAM...................
Corsair Core i7 Dominator 6GB DDR3 1866MHz
OS Drive............
Intel's X25-M G2 160Gb
(solid state drive)
Power Supply....
Kingwin Mach 1 1220Watt
Graphics card....
EVGA GeForce GTX 480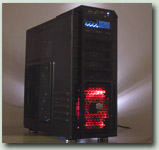 So after 4 months of hard work saving up my money and buy the parts piece by piece, I finally have it up and running. I couldn't be happier. This computer will allow me to do things my old computer could never do. It was seriously getting out dated and worn out. Just the other day my power supply died on my old computer. Luckily I had some old spare computers around and was able to remove an old power supply and use it to get my old computer going again. Looks like I got my new computer up and running just in time. I have big plans for this new computer, so expect to see more artwork and comics in the very near future.