It's the most wonderful time of the year everyone!
Commissions are once again open!How to Commission
Please copy past the following format into either and Email ( alexander_tansley@drcraftyproductions.com ) or DA note
Username
: who you are
Paypal address
: The email you use for Paypal
Commission type
: Chibi/Creature/Fullbody + how many you want
References
: Links to any visual references to what you want drawn (written references will be rejected immediately)
Commission details
: Information about your commission
DO NOT
send money
BEFORE
confirmation. Wait until I have confirmed the pricing, and i will invoice you through paypal.
With that said, onto the next important part.
Prices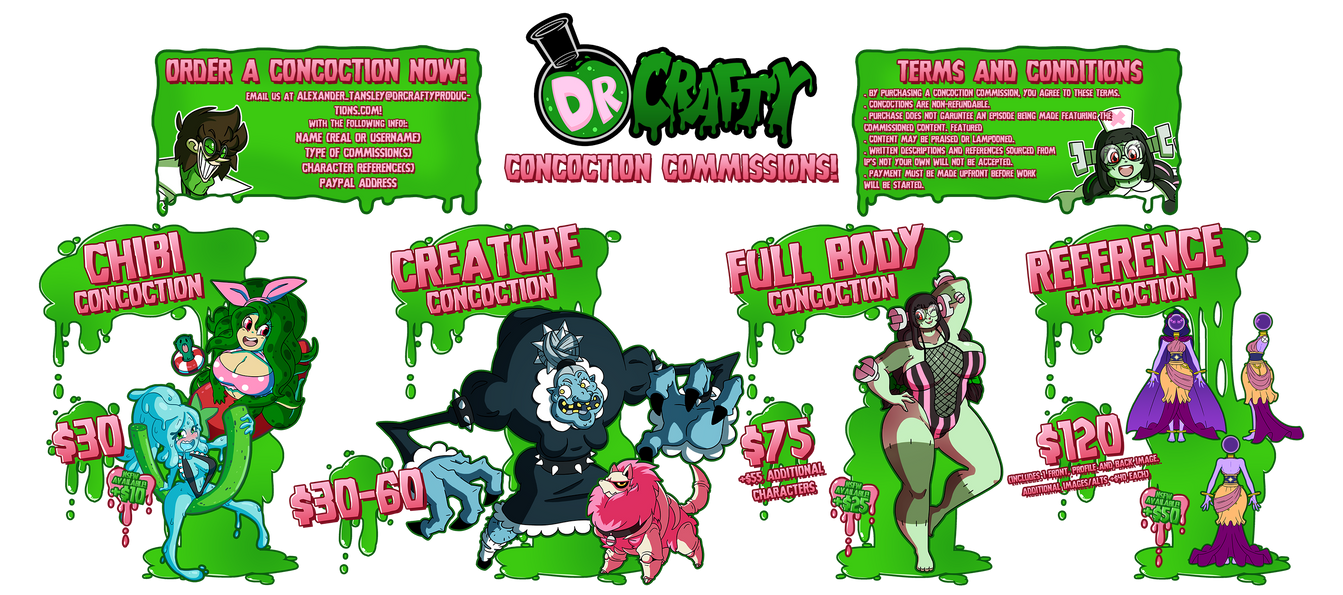 Once again, due to high demand, I've shifted around the pricing of my commissions to accommodate the demand for my services. But worry not! There are ways to reduce the price! Simply go to my
P
atreon
and pledge to the respective tier level for a big discount!
www.patreon.com/DrCrafty

Pledge
$5
to get
%10 off

Pledge
$10
to get
%20 off

Pledge
$25
to get
%30 off

Pledge
$30
to get
%40 off
And now for slots. I'm gonna try and be strict with the number of slots available, but we'll see how that goes.
Keep in mind the following
rules

Chibis are limited to 3 per order per customer

Creatures are limited to 3 per order per customer

Fullbodies are limited to 2 per order per customer (NSFW fullbodies do not have this limit)



Reference limited to 1 character (not including alts)
SLOTS

ArmorKabuto

Alan Peterson

Minionoftheeast

PMGPSW

Sebastian Maher

Miss Nightmare

Gabriel Regli

Dominicdelagol2

Dimension-Dino

Mikotonui

Ajustice90

KyleBrackman

Neonbot

Krockman18

Nickfan

Tommy Lucio

Eternal apprentice

Matt-RX
Applications are open until June 10th , OR until slots are filled
Happy shopping everyone!