EDIT: Closed commissions for now! I suspect there's gonna be a lot of fun material for next season now!
It's the most wonderful time of the year everyone!
Commissions are once again open!
I'll be taking on commissions by an application system; meaning you email ( alexander_tansley@drCraftyproductions.com ) or note me your commission here, and I'll respond within the week saying whether I'll accept it or decline it while also giving the price if I accept. There a few big reasons I'm doing commissions this way from now on

Quality Control
: Because I use commissions for the show sometimes, commissions I take on need to be of some kind of standard of quality in order to have a better chance of putting them on the show. This can be commissions that I'm either A) more knowledgable about, or B) Pertaining to a subject I can talk at length about. So basically, doing commissions this way actually
INCREASES
the odds of your commission being on the show (it's still not 100% garunteed though, but certainly more likely than in past commission drives)

Demand
: Last time I opened commissions, they filled up within literally 15 minutes, depriving a lot of people the chance to even send me information. So doing commissions this way will allow more people time to give me their commission details before I decide to take on the job or not. So with that in mind, I must ask that you think hard about what you want commissioned, in order for there to be less chance of it being declined, and more chance of being on the show.
How to Commission
Please copy past the following format into either and Email or DA note
Username
: who you are
Paypal address
: The email you use for Paypal
Commission type
: Chibi/Creature/Fullbody + how many you want
References
: Links to any visual references to what you want drawn (written references will be rejected immediately)
Commission details
: Information about your commission
DO NOT
send money
BEFORE
confirmation. Wait until I have confirmed the pricing, and i will invoice you through paypal.
With that said, onto the next important part.
Prices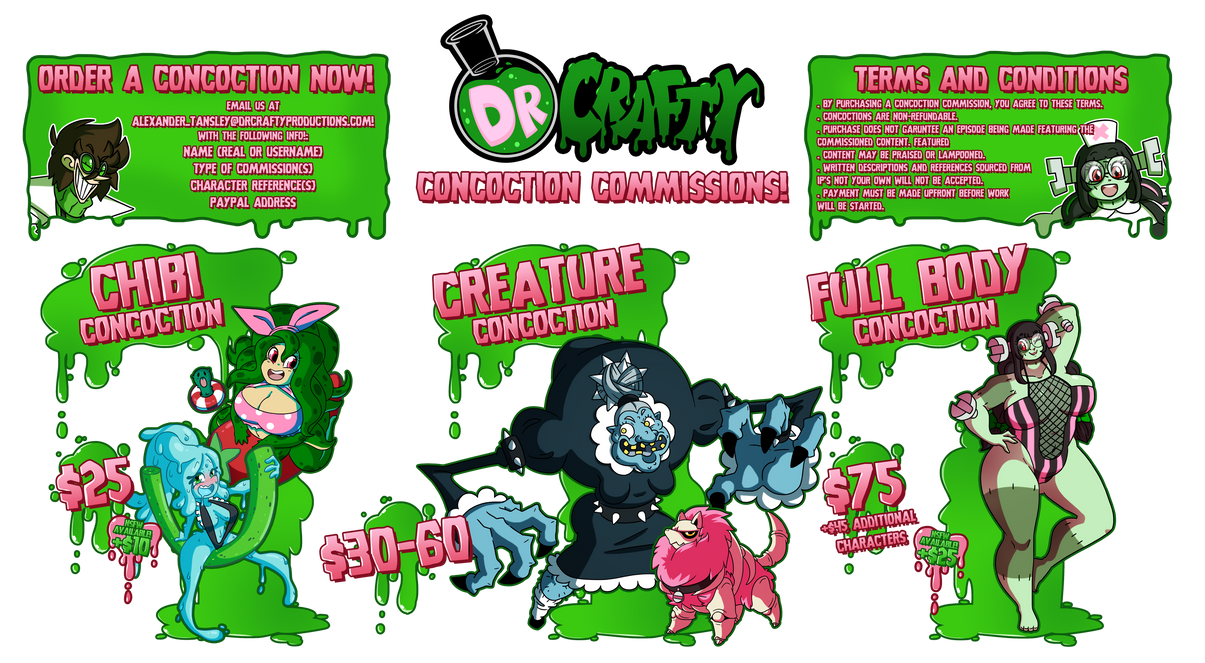 Once again, due to high demand, I've shifted around the pricing of my commissions to accommodate the demand for my services. But worry not! There are ways to reduce the price! Simply go to my
P
atreon
and pledge to the respective tier level for a big discount!
www.patreon.com/DrCrafty

Pledge
$5
to get
%10 off

Pledge
$10
to get
%20 off

Pledge
$20
to get
%30 off

Pledge
$30
to get
%40 off
And now for slots. I'm gonna try and be strict with the number of slots available, but we'll see how that goes.
Keep in mind the following
rules

Chibis are limited to 3 per order per customer

Creatures are limited to 3 per order per customer

Fullbodies are limited to 2 per order per customer (NSFW fullbodies do not have this limit)
SLOTS

Armorkabuto

Clockwerksoul



A R Dragonheart

Alan Peterson

Brave-King-Shishio

Feenie

Ontarioku

Saintwalker1806

Lucas Bradly

Skullzproductions

Sir Raptor

Mirianocturnae



Johnnyd2
Applications are open until February 9th 26th, OR until slots are filled
Happy shopping everyone!