Commissions are open once again for our limited time birthday sale only!




Follow the instructions here to order!


Crafty Commissions: CLOSED!It's the most wonderful time of the year everyone! Commissions are once again open!
How to Commission
Please copy past the following format into either and Email ( alexander_tansley@drcraftyproductions.com ) or DA note
Username: who you are
Paypal address: The email you use for Paypal
Commission type: Chibi/Creature/Fullbody + how many you want
References: Links to any visual references to what you want drawn (written references will be rejected immediately)
Commission details: Information about your commission
DO NOT send money BEFORE confirmation. Wait until I have confirmed the pricing, and i will invoice you through paypal.
With that said, onto the next important part.
Prices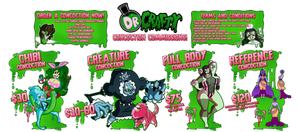 Once again, due to high demand, I've shifted around the pricing of my commissions to accommodate the demand for my services. But worry not! There are ways to reduce the price! Simply go to my P

Watch my new youtube series: Dr Crafty, here!: www.youtube.com/drcrafty
SUPPORT THE DR CRAFTY SHOW ON PATREON to get discounts of commissions~
www.patreon.com/DrCrafty
BUY CRAFTY MERCH HERE!
www.teepublic.com/user/drcraft…
Image size
2935x1300px 2.38 MB