EXPECT THE FIRST GHOST WHEN THE BELL TOLLS 1!!!
Watch my new youtube series: Dr Crafty, here!:
www.youtube.com/drcrafty
SUPPORT THE DR CRAFTY SHOW ON PATREON
www.patreon.com/DrCrafty
BUY CRAFTY MERCH HERE!
www.teepublic.com/user/drcraft…
Order a concoction from me here!: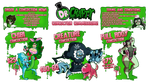 Image size
2000x884px 1.2 MB

Last Christmas, I gave you my heart.
But the very next day, you nuke me away...