We all suck here
Watch my new youtube series: Dr Crafty, here!:
www.youtube.com/drcrafty
SUPPORT THE DR CRAFTY SHOW ON PATREON
www.patreon.com/DrCrafty
BUY CRAFTY MERCH HERE!
www.teepublic.com/user/drcraft…
Order a concoction from me here!: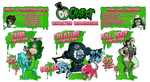 The worst Un-Birthday ever scene!
Reply

Jervis Tetch is a third string villain at best. He's only really dangerous if you ingest a home-brew hallucinogen or he puts a special "hat" on you.
Reply

True, but the way he does it is terrifying. Literally anything you drink could be laced with the stuff. If Arkham is any indication, he doesndoesn't even need to give people much incentive. How frightening is it that Gotham has not one, not two, but at least three villains with a compound that can a) scare you to death, b) make your corpse look like the Joker, or c) Control your mind to do unspeakable acts?

Yes, Tetch is mostly useless, but he HAS won a couple times (never against bats, though).
Reply