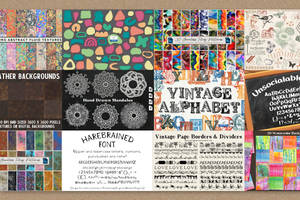 HG Designs Subscriber Area
Lots of high resolution goodies for graphic design including textures, photoshop brushes, seamless patterns and more.
---

drbjr MINI Custom Brush Manager - Demo With Audio
Description
!!!PLEASE READ COMPATIBILITY!!!
DEMO VIDEO:
youtu.be/3zT6qVxEJbE
-----------------------------------------------
Product Info: drbjr MINI Custom Brush Manager
Easy access tool options: Paintbrush/Eraser/Smudge
[Libs TAB]
12 Customizable quick button libraries:
Assorted,Chalk,Paint,Texture,Cloud,Foliage,Rock,Effects, Custom 1/2/3/4
[Opts TAB]
Customize loadable libraries or any libraries you want.
Add New/Rename/Delete Brush presets/Clear Controls
Save/Append/Replace Brush libraries.
Open/Close Brush Editor/Presets/Presets Manager
-----------------------------------------------
Link to buy "PAYPAL or Credit card" $1:
drbjr.selz.com/item/53fcb567b7…
(You can donate more If you want, Enter number other than 1)
-----------------------------------------------
COMPATIBILITY Please READ:
!WINDOWS ONLY!
Tested working with Photoshop CS6 - Photoshop CC 14.0 - should work with 14.1 14.2 / CC 14.2.1
!!DOES NOT WORK WITH ANY VERSION LOWER THAN CS6 and DOES NOT WORK WITH CC 2014 v15.0 or Above!!(Already tested and does not support flash panels - The panels need to be converted to HTML5. There is no guarantee I will do this so please do not ask.
-----------------------------------------------
Installation Instructions:
Follow below or Vid here:
tinyurl.com/q6nwg9q
1. Close Photoshop CS6/CC (If Open).
2. Extract "drbjr-Mini-Custom-Brush-Manager" Folder to C: Drive (Can only go here)
3. Open "drbjr-Mini-Custom-Brush-Manager" On the C

rive -> Open the Folder "drbjr-MCBM-COPY-CONTENTS-INTO-PLUGINS-PANELS" -> COPY the folder Inside.
4. Find where your Photoshop CS6/CC Is located(Usually In your Program Files) -> Open It and Find and Open the "PLUGINS" folder -> In the plugins folder find the "PANELS" Folder -> RCLICK and PASTE the folder you copied.
5. Open Photoshop CS6/CC -> Go to the top menu bar WINDOW -> Scroll down to ACTIONS -> Open the actions panel -> Top right of that panel Is a drop-down Icon Click that and find "LOAD ACTIONS" -> Click on that option and go the main "drbjr-Mini-Custom-Brush-Manager" folder on the C: Drive -> Find the folder "drbjr-MCBM-Actions" -> Select and Load the actions file found there.
6. Go to the top menu bar WINDOW -> Scroll down to EXTENSIONS -> In that fly out menu choose "drbjr-MCBM" and you are DONE. Initialization time for Panel and loadable libraries will vary depending on the amount of content Saved to .ABR.
EXTRA NOTE: CC users IF your EXTENSIONS text does NOT show or is GREYED out In the Window section:
1. Go to the menu bar under EDIT -> Scroll down to PREFERENCES -> Open that up and choose PLUGINS -> Check the box for LOAD EXTENSIONS PANELS -> Restart Photoshop CC.
2. Also make sure you show all menu Items: Go the the Window section on the Menu bar -> Scroll to the bottom and clock on the SHOW ALL MENU ITEMS, Extensions will pop up.
Try both of these solutions and Rereading Install Instructions before sending me a bug report, response time on bug reports will vary, so please be patient.
-----------------------------------------------
Feel free to check out my Photoshop CS6/CC extensions:
FREE Digital Painting Companion(NEW):
fav.me/d9knnru
FREE Digital Painting Companion(Old):
fav.me/d7ngv3b
FREE Custom Brush Categories:
fav.me/d7ylrtn
MINI Custom Brush Manager:
fav.me/d7wr3gf
Custom Brush Manager Extended:
fav.me/d7kmovm
Custom Brush Size Sliders:
selz.com/items/detail/53be9088…
-----------------------------------------------
Digital Portraits Commission Info:
fav.me/d8wiukb
Email: drbjr.art@hotmail.com
Portfolio:
drbjrart.daportfolio.com/
-----------------------------------------------
Social Media links:
Youtube:
www.youtube.com/channel/UCfeYc…
Tumblr:
drbjrart.tumblr.com/
Twitter:
twitter.com/drbjr_art
Instagram:
instagram.com/drbjr.art/
Image size
731x453px 109.15 KB